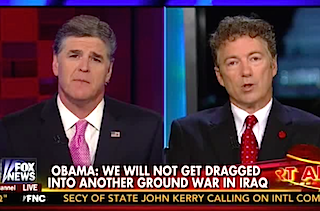 Of all the lines President Barack Obama delivered during last night's address to the nation on the U.S. fight against ISIS, perhaps none echoed more loudly across social media than this one: "ISIL is not 'Islamic.'"
The president added, "No religion condones the killing of innocents, and the vast majority of ISIL's victims have been Muslim."
These comments certainly stood out to Fox News' Sean Hannity, who said on his show last night that he felt the president was trying to downplay the role of Islam in ISIS' ideology in the same way the Obama administration labeled the 2009 attack on Fort Hood "workplace violence" and not "terrorism."
But despite some leading questions for Hannity, his guest Sen. Rand Paul (R-KY) did not take the bait.
"I think there was one important point that he was making about them not being Islamic or a form of true Islam," the senator told Hannity. He added that "ultimately civilized Islam will have to step up" and combat ISIS. "So I think it is important not only to the American public but for the world and the Islamic world to point out this is not a true form of Islam. This is an abhorrent form that should not represent most of the civilized Islamic world."
Hannity tried to steer his guest back to his criticism of Obama, saying he doesn't think the president "understands" what the "goal of a caliphate is," but Paul wouldn't go there.
"I don't know that he was trying to diminish their importance," Paul said. "I would say he's trying to make the point to the Islamic world that this isn't a true or accurate depiction of Islam, because ultimately we do need — and most of the allies around that also are offended and also are worried about the rise of ISIS are also Muslim nations. And I think they will rise up."
Watch video below, via Fox News:
[Photo via screengrab]
— —
>> Follow Matt Wilstein (@TheMattWilstein) on Twitter
Have a tip we should know? tips@mediaite.com