Rand Paul Announces Opposition To Immigration Reform: Without Security Triggers, 'I Can't Support Final Bill'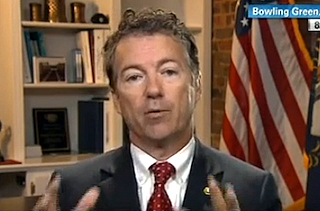 Rand Paul told CNN's Candy Crowley that he will not vote in favor of the gang of eight's immigration reform bill in the Senate, the first time the Kentucky Senator has definitively stated his opposition to the massive, bipartisan legislation.
"I'm all in favor of immigration reform," Paul said on Sunday morning's State of the Union, "but I'm like most conservatives in the country in that I think reform should be dependent on border security first. So I introduced an amendment that would have done just that, border security first and then immigration reform, with congressional checks on whether or not that's occurring. That wasn't voted on favorably. Without some congressional authority and without border security first, I can't support the final bill."
Paul added, "It's going to pass the Senate, but it's dead on arrival in the House. The House is much closer to me, and I think they think border security has to come first before you get immigration reform."
The bill's proponents are aiming for seventy votes for the bill, to put pressure on the House. Paul had been one of the more prominent holdouts, citing his general support of immigration reform but keeping a close eye on his conservative base by demanding trigger-based border security provisions that would have to be completed before citizenship measures kicked in.
Crowley asked how Paul could be against the bill despite the Hoeven-Corker amendment, which substantially beefed up border security.
"We've thrown a lot of money at a lot of problems in our country," Paul said. "To me, what really tells me that they're serious would be letting Congress vote on whether the border's secure. If the people in the country want to be assured that we will not get another 10 million people to come here illegally over the next decade, they have to believe they get a vote through their Congress. If this is a done deal once the bill's over and it's a done deal, we never get to revisit it because it will be very difficult, I don't think we'll really get a truly secure border."
Crowley countered that making citizenship dependent on later action would be to put an important part of reform in the hands of a political body that may not be willing to follow through.
"I don't trust this administration or a Republican administration to really make a valid judgment," Paul said. "I want Congress and the people to have the right to decide whether the border's secure. Is that political? Yes, we live in a democracy, a democratic republic. It will be political no matter whether it's the president or Congress."
Watch the exchange here, via CNN:
—
>> Follow Evan McMurry (@evanmcmurry) on Twitter
Have a tip we should know? tips@mediaite.com