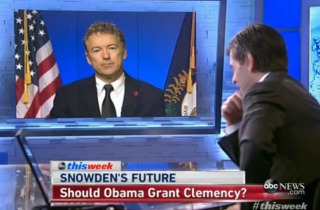 Appearing on ABC's This Week on Sunday, Sen. Rand Paul (R-KY) told host George Stephanopoulos that National Security Agency leaker Edward Snowden should be convicted and sent to prison for his crimes. Paul said that, while he appreciates Snowden's leaks about domestic intelligence gathering programs, Snowden should serve a light sentence for leaking American foreign intelligence gathering practices to media outlets and foreign governments.

On Friday, Paul told Fox News Channel host Eric Bolling that Snowden and Director of National Intelligence James Clapper should "share a cell" for their infractions.
When asked to defend his statement, Paul said that Clapper lied to the American people and to Congress and should be held to account for perjuring himself. "I don't think we can selectively apply the law," Paul said.
He added that Snowden, while not deserving of a "life sentence" or "the death penalty," should serve "a few years in prison" because courts have ruled that his leaks constituted illegal acts.
"I think that's inappropriate," Paul told Stephanopoulos. "And I think that's why he fled, because that's what he faced."
RELATED: Peter King: Rand Paul 'Lies' About NSA, 'Doesn't Deserve to Be in the United States Senate'
However, Paul said that Snowden's leaks would be viewed though the lens of posterity as beneficial to the country while Clapper's misleading testimony will be seen by history as a moment which eroded the public trust in America's domestic intelligence apparatus.
Watch the clip below via ABC:
[Photo via screen grab ]
— —
> >Follow Noah Rothman (@NoahCRothman) on Twitter
Have a tip we should know? tips@mediaite.com