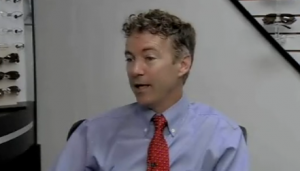 Following his primary win in Kentucky, Rand Paul was called out by his opponent Jack Conway, for statements he made that implied that he opposed the Civil Rights Act. Paul responded to the criticism in a lengthy and widely publicized interview with Rachel Maddow. Paul has now stated that, while he felt that Maddow treated him fairly in the interview, he can't say the same thing for the rest of MSNBC.
Paul made these statements in a fascinating interview with Joe Arnold of WHAS11. Arnold asked him how he felt about his recent media exposure and the candidate was quick to discuss his displeasure with Chris Matthews and MSNBC:
"You see Chris Matthews now has admitted that everything he was saying wasn't true. It was coming from Jack Conway…But they need to be a little more careful reporting their news. I mean, 'cause they did it all day long….They basically stated something adamantly that was my position that wasn't my position at all. They did it all day long on national news and I don't think that's very fair."
When Arnold asked him what lessons he'd learned from the whole affair, he continued his MSNBC critique:
"I need to be very careful about going on certain networks that seem to have a bias. Because it really wasn't the interview so much that was unfair. The interview I think was very fair. But then they went on a whole day repeating something over and over again. It makes me less inclined to go on a network."
Sound familiar? Arnold has posted the entire video of the interview online and we have included it below. In case you're wondering why it looks like they're in the back room of a Lens Crafters, the video was apparently recorded in Paul's opthamology office in Kentucky.
Have a tip we should know? tips@mediaite.com