Rand Paul: Benghazi Should 'Preclude Hillary Clinton From Ever Holding High Office Again'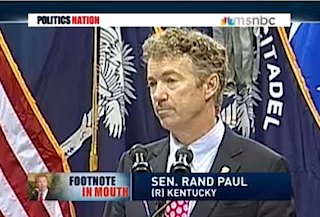 During a speech in the early primary state of South Carolina Tuesday, Sen. Rand Paul (R-KY) delivered a searing critique of former Secretary of State Hillary Clinton's role in the 2012 attack on the U.S. consulate in Benghazi, Libya. "Her failure to provide our Ambassador and his mission with adequate security should preclude Hillary Clinton from ever holding high office again," Paul told an audience at The Citadel military college.
It was Paul's first major speech since he promised to overhaul his process in order to avoid more instances of plagiarism. Paul said he would "footnote everything as if it was a college paper" moving forward, and it looks like he has kept that promise.
The transcript of Paul's Citadel speech, published on his Senate website Tuesday, contains no fewer than 33 footnotes, with links to Reuters, The New York Times, The Hill and more.
MSNBC's Al Sharpton aired the Hillary Clinton-focused section of Paul's speech on his show Tuesday afternoon, and mocked "Mr. Copy and Paste" for trotting out the Benghazi line of attack.
"Your first big speech since the plagiarism scandal that forced you to say, 'if it will make people leave me the hell alone, we're going to do them like college papers,' and you're using that tired, old, false Benghazi attack?" Sharpton asked. "This is your idea of being original? We've been hearing this farcical Hillary Clinton scandal-mongering for over a year. Senator Paul, this isn't even a nice try–and you can source me again on this one–we got you."
Watch video below, via MSNBC:
[photo via screengrab]
— —
>> Follow Matt Wilstein (@TheMattWilstein) on Twitter
Have a tip we should know? tips@mediaite.com