Rand Paul Brutalizes Hillary Clinton: 'Had I Been President' I Would Have Fired You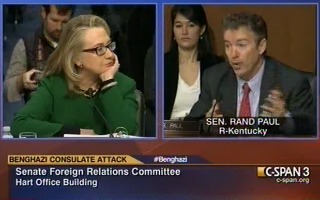 During Secretary of State Hillary Clinton's Congressional testimony regarding what she knew about the attack on an American consulate in Benghazi last year, Sen. Rand Paul (R-KY) took the opportunity of his question to bluntly attack Clinton's negligence in the months preceding the attack. Paul thanked Clinton for taking culpability for "the worst tragedy since 9/11," but noted that, if he had been President of the United States at the time of the attack and had learned that Clinton failed to read some key diplomatic cables before that event, he would have relieved her of her post.

RELATED: Hillary Clinton Chokes Up Speaking About Benghazi Victims During Testimony
Paul's opening statement prior to his question for Sec. Clinton consisted of a savage rebuke of her leadership of the State Department leading up to the attack in Benghazi:
One of the things that disappointed me most about the original 9/11 is that no one was fired. We spent trillions of dollars, but there were a lot of human errors. These are judgment errors and the people who make judgment errors need to be replaced, fired, and no longer in the position of making these judgment calls.

So, we have a review board – review board finds 64 different things that we can change. A lot of them are common sense and should be done, but the question is it's a failure of leadership that they weren't done in advance. And four lives were cost because of this.

I'm glad that you're accepting responsibility. I think that, ultimately, with your leaving, you accept the culpability for the worst tragedy since 9/11. And I really mean that.

Had I been president at the time, and I found that you did not read the cables from Benghazi, you did not read the cables from Ambassador [Chris] Stevens, I would have relieved you of your post. I think it's inexcusable.
"Not to know of the request for securities, really, I think, cost these people their lives," he added. "Their lives could have been saved had someone been more available. Had someone been aware of these things – more on top of the job."
"I think it's good that you're accepting responsibility, because no one else is," Paul concluded. "There is a certain amount of culpability to the worst tragedy since 9/11, and I'm glad you're accepting this."
Paul went on to ask Clinton what she knew about possible shipments of weapons from Libya to Turkey and if the United States was involved in that transfer. Clinton appeared perplexed by the question. She said that she had no knowledge of any weapons transfers from Libya to Turkey, let alone any U.S. involvement in such a transfer.
Watch the clip below via C-SPAN 3:
> >Follow Noah Rothman (@NoahCRothman) on Twitter
Have a tip we should know? [email protected]