Rand Paul Cautions: Republicans And Some Evangelicals Often Appear 'Too Eager For War'
Rand Paul Cautions: GOP And Some Evangelicals Often Appear 'Too Eager For War'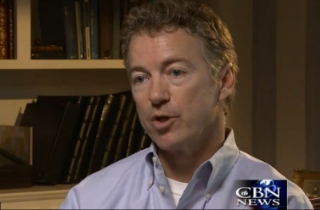 Appearing on the Christian Broadcasting Network this week, Sen. Rand Paul (R-KY) said something that is likely to continue the distancing of himself from the staunch neoconservative types like Bill Kristol and Charles Krauthammer who have actively blasted the senator for civil libertarian views. Speaking with CBN's David Brody, Paul said that Republicans and evangelical Christians too often seem eager to go to war.
"Part of Republicans' problems and, frankly, to tell you the truth, some in the evangelical Christian movement, I think have appeared too eager for war," Paul said.
"When people come to me and they're lobbying for ratcheting up some bellicose policy –- even if it's a bad country — I tell them: When I read the New Testament, and when I read about Jesus, he wasn't really involved in the war of his days," the senator continued. "In fact, people rebuked him for not being the king they wanted; they wanted somebody to stand up to the Romans."
Comments like these are likely to further irritate the war-hawkish elements of the Republican Party, such as Weekly Standard founder Kristol who called the senator a "dangerous" "neo-isolationist," and Fox commentator Krauthammer who dismissed Paul's civil liberties concerns as "absurd" and ridiculous."
In what seems like a direct criticism of some of the practices contained within American foreign policy, the senator then said that "[Jesus] didn't organize coalitions and guerrilla bands and arm them."
He concluded: "Blessed are the peacemakers, not blessed are the warmakers."
Hear, hear.
Watch below, via CBN:
[h/t MofoPolitics]
— —
>> Follow Andrew Kirell (@AndrewKirell) on Twitter
Have a tip we should know? [email protected]