Rand Paul Compares Default Warnings to Closing WWII Memorial: 'This is a Game'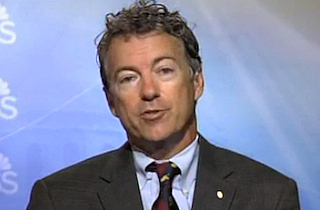 Senator Rand Paul (R-KY) appeared on Meet the Press Sunday morning and told host Savannah Guthrie that the warnings of default if the debt limit were to breached were overblown, and were being exploited by Democrats to scare the markets into pressuring House Republicans into raising the debt ceiling.
"I think it's irresponsible for the president and his men to even talk about default," Paul said. "There's no reason for us to default. We bring in $250 billion in taxes every month. Our interest payment is $20 billion. Tell me why were going to default?"
"We have legislation called the Full Faith and Credit Act, and it tells the president you must pay the interest on the debt," he continued. "So this is a game. This is like closing the World War II Memorial. They all get out on TV and saying, 'Oh we're going to default!' They're the ones scaring the marketplace."
RELATED: NBC's Savannah Guthrie Challenges Sen. Rand Paul to Defend Open Mic Moment
Guthrie asked Paul if there wouldn't be significant consequences even without a technical default.
"Look at what happened in 2011," Paul said. "Our credit rating was downgraded. But you know why? The reasoning they gave was because we had too much debt, that we weren't cutting enough spending, so they downgraded us.
"It has to do with the big picture of how much debt we're accumulating. It isn't so much these deadlines that the market's worried about. The market's also worried about a $17 trillion debt, and that we're not acting fiscally responsibly, and that we're spending more money than we bring in."
Watch the full video below, via NBC News:
[Image via screengrab]
——
>> Follow Evan McMurry (@evanmcmurry) on Twitter
Have a tip we should know? tips@mediaite.com