Rand Paul Grills Kerry on Whether Obama Will Honor Congress' Vote or Make 'Constitutional Theater'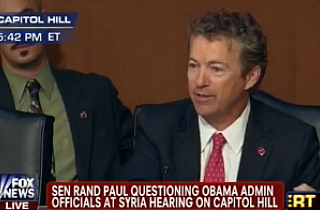 During this afternoon's Senate hearing on a potential use of force against Syria, Sen. Rand Paul (R-KY) challenged Secretary of State John Kerry to commit to honoring Congress' vote on the resolution, even if that vote so happens to reject the administration's proposed interventions. In return, Sec. Kerry dismissed Paul's challenges, telling him he cannot speak for the president in advance.
"I want to be proud of the president," Paul said before his peers on the Senate Foreign Relations Committee. "But every time I'm just about there, I get word that really he doesn't mean it, that he's going to sort of obey the Constitution if he wins." The Kentucky Republican was referring to the rumored possibility that Obama will go ahead with military strikes even if Congress rejects his proposals with a vote.
"Make me proud today, Secretary Kerry," the senator implored his former colleague. "Stand up for us and say you're going to obey the Constitution and if we vote you down — which is unlikely, by the way, but if we do — you would go with what the people say to their Congress and you wouldn't go forward with a war your Congress votes against. Can you give me a better answer, Secretary Kerry?"
Kerry dismissed the question: "I can't give you a different answer than the one I gave you. I don't know what the president's decision is. I will tell you this: it ought to make you proud because he still has constitutional authority."
This set Paul off on another thought: "I don't believe he has the constitutional authority, I think Congress has this…. [War-making] power is a congressional power and it is not an executive power. They didn't say big war, small war, boots-on-the-ground, not-boots-on-the-ground, they said declare war."
The senator then took a tougher tone with the secretary [emphasis added]:
"If you do not say explicitly that we will abide by this vote, you're making a joke of us. You're making us into theater. We'd play constitutional theater for the president. If this is real, you will abide by the verdict of Congress. You're probably going to win, just say it is real, let's have a meaningful debate. And not where you say we have the authority and we're going to war anyway."
"I assure you there's nothing meaningless and there's everything real," Kerry said while scratching his head. "I will leave to the man elected as President of the United States the responsibility for telling you what his decision is, if and when that moment came, but the president intends to win this vote and he's not going to make prior announcements."
Watch the exchange below, via Fox:
— —
>> Follow Andrew Kirell (@AndrewKirell) on Twitter
Have a tip we should know? tips@mediaite.com