Rand Paul Hits Back at Conservative Faux-Outrage over His 'Unenthused Claps' for Netanyahu
During Prime Minister Benjamin Netanyahu's speech before Congress on Tuesday, Sen. Rand Paul (R-KY) failed to applaud with enough enthusiasm to cause a mini-earthquake, thereby hinting that he cannot be trusted when he says he appreciates the Israeli leader. At least that's the concept being propagated by several conservative blogs.
CNN cameras caught the senator clapping at a slower pace than his fellow Republicans, staring in a rather ponderous manner: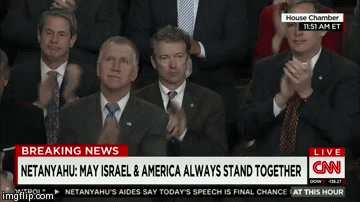 Naturally, because the senator represents a more hesitant, non-interventionist wing of the Republican Party (and he's more supportive of current Iran negotiations), the more hawkish elements of the party's go-to blogs jumped right on it.
"Unenthused Rand Paul Lifelessly Applauds Netanyahu Speech" wrote the National Review Online, citing a handful of conservative tweeters to bolster the claim that his slow-clap must mean something. The Washington Free Beacon, known for its barrage of attacks on the senator and his staffers, posted the GIF without comment.
During an appearance Wednesday morning on Fox & Friends, the senator hit back at the suggestion that this GIF shows he is secretly anti-Israel:
You have these gossipy websites who really demean themselves by putting stuff like that out. I gave the prime minister 50 standing ovations, I co-sponsored bringing him here, and on the day that I also decide to co-sponsor the Corker bill saying that any final deal has to be approved, we have gossipy websites looking at, you know, the metric of how fast you clap. I mean, I think they demean themselves by putting that out.
Watch below, via Fox News:
— —
>> Follow Andrew Kirell (@AndrewKirell) on Twitter
Have a tip we should know? tips@mediaite.com