Rand Paul Makes Case For 'Libertarian Approach' On Fox: 'Marriage-Neutral' Tax Code, Don't Jail Pot Users, Etc.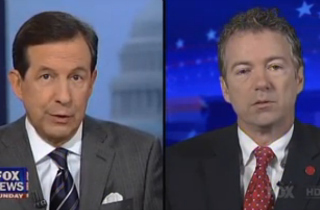 Appearing on Fox News Sunday this morning, Sen. Rand Paul (R-KY) made the case for his "libertarian Republican approach," reiterating his belief that the GOP can appeal to a wider base of Americans by, among other suggestions, taking a principled stand for "the right to trial by jury," getting the government to take a "neutral" stance on marriage, reforming immigration, and relaxing rules against marijuana use and other nonviolent crimes.
In order to be competitive in New England and other typically "blue state" strongholds, Sen. Paul suggested that the party consider his "libertarian Republican approach to things" because "young people are attracted to that and our party could grow if we accepted something more than the cookie-cutter conservatives in the past."
He added that the left-right political paradigm "doesn't always work for people," because most people consider themselves "independents and moderates" on issues like jailing individuals for marijuana use and on whether the United States should pursue a less aggressive foreign policy than what conservatives have to offer.
When pressed on his stance over the drug war, Paul suggested that the last few presidents would have been jailed for their own non-violent dabblings with drugs, and yet we continue a policy of locking up individuals for low-level drug possession.
"Look, the last two presidents could have conceivably been put in jail for their drug use and I really think – look what would've happened, it would've ruined their lives. They got lucky. But a lot of poor kids, particularly in the inner city, don't get lucky and they don't have good attorneys and they go to jail for some of these things and I think it's a big mistake," the Kentucky Republican said.
The senator clarified that he does not personally condone marijuana use, but he thinks it's a "mistake" to jail users for such nonviolent crimes:
"There are people in jail for 37, 50, 45 years for nonviolent crimes and that's a huge mistake. Our prisons are full of non-violent criminals. I don't want to encourage people to do it. I think even marijuana is a bad thing to do. I think it takes away your incentive to work and show up and do the things that you should be doing. I don't think that it's a good idea."
On the hot-button issue of same-sex marriage, Sen. Paul maintained that he personally believes in traditional marriage, but that as opposed to conservatives actively trying to get the federal government to take their side in the marriage fight, the senator believes it ought to remain "neutral."
"I don't want the government promoting something I don't believe in," he explained, "but I also don't mind if the government tries to be neutral on the issue." He advocated for the federal tax code to be "neutral" on marriage: instead of dishing out benefits to defined couples, Paul believes a simpler tax code wouldn't need to include marriage definitions.
Watch the full interview below, via Fox:
— —
>> Follow Andrew Kirell (@AndrewKirell) on Twitter
Have a tip we should know? tips@mediaite.com