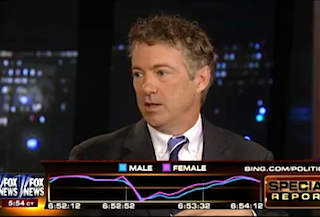 Sen. Rand Paul (R-KY) has an idea for who Americans might want as president in 2016: "Someone like myself." Appearing as a guest panelist on Special Report with Bret Baier, Paul was asked why voters wouldn't want an "outsider" in 2016, perhaps a Republican governor from a blue state. He went to explain how he fits that bill, despite being an active member of the Senate since the 2010 midterms.
"I think they want someone outside of, you know, what's been going on. So, for example, someone like myself who has been promoting term limits," Paul said. "Someone who says we shouldn't have, you know, decade after decade longevity up here. And I think I'm, enough, new here to still be perceived as an outsider, should that be the choice at sometime in 2016."
He continued by saying that as far as he's concerned, ""I don't know that a governor is necessarily an outsider. A governor can be an insider as much as anybody else." When Paul said one of the most important things for a politician to do is have a "real job" before getting into politics, Charles Krauthammer made a sly reference to Paul's previous profession. "Like being an eye doctor, for example?" he asked.
Turning to the aforementioned Republican governor from a blue state, New Jersey's Chris Christie, Paul said he could only be considered a "conservative" using a "loose definition" for the word. "If you look at a lot of issues like on whether or not we should accept Obamacare, bring it to our state, expand Medicaid: those would be, I think at best, moderate positions," he said. "But I think we have room for moderates in our party."
Watch video below, via Fox News:
[photo via screengrab]
— —
>> Follow Matt Wilstein (@TheMattWilstein) on Twitter
Have a tip we should know? [email protected]