Rand Paul On Potential 2016 Presidential Bid: GOP In Danger Of 'Becoming A Dinosaur'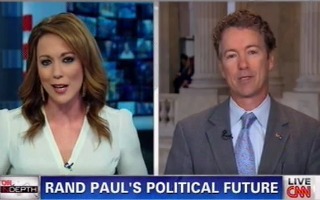 Sen. Rand Paul (R-KY) appeared on CNN with anchor Brooke Baldwin on Tuesday where he candidly opened up about his interest in a presidential bid in the future. Paul said that the Republican party is in danger of becoming "a dinosaur" which is unable to compete in national elections. Paul's prescription for needed changes that the GOP should adopt includes a more libertarian approach to foreign policy, the war on drugs and immigration reform.

Baldwin asked Paul about his potential presidential plans and whether he has taken any action to try to line up supporters who would back him in the primaries. Paul did not go into the details of his actions, but he said that he would not deny that he was interested in the presidency.
"I want to be part of the national debate," Paul said. "I think my party – the Republican party – is shrinking. We're in danger of becoming a dinosaur."
He said that the GOP is not competitive in so many region of the United States that they are geographically pigeonholed into areas that they have to carry in order to win a national race.
"We need a new type of Republican. I think that involves some of the ideas of libertarian-leaning Republicans. People who believe that we need a less aggressive foreign policy. People who believe that we're not going to deport 12 million Hispanic folks and send them home," Paul said.
"I think young people want a less aggressive foreign policy," Paul concluded. "They don't want to put people in 20 years in jail for marijuana use or non-violent crimes, and I think they want a little bit different approach to immigration."
Watch the clip below via CNN:
> >Follow Noah Rothman (@Noah_C_Rothman) on Twitter
Have a tip we should know? tips@mediaite.com