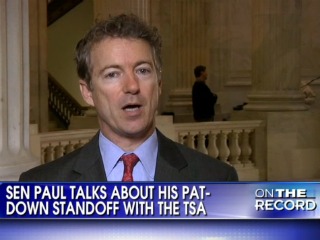 Kentucky senator Rand Paul is now speaking out about his experience yesterday with the TSA at a Tennessee airport. Early reports — kicking off with a Tweet from his communications director — said the Senator had been detained by TSA officials after setting off an alarm during his full-body scan. He was not permitted to re-enter the machine, but was asked to undergo a pat-down — something which Senator Paul has been very vocally against.
RELATED: Reports: Sen. Rand Paul Detained By TSA
The White House later clarified that he had not been detained, but had been escorted out of the screening area by law enforcement after refusing to "complete the screening process." "It's my understanding," added White House press secretary Jay Carney, "he has now rebooked and passed through security without incident, and that has resolved itself. "
RELATED: White House Sides With TSA In Rand Paul Incident, Says He 'Was Not Detained'
Now, Senator Paul has described the incident in his own words to Fox News' Greta Van Susteren. He advocated for dignity in the TSA screening process. He also says that, contrary to the White House's statements, he felt as if he was being detained as he was brought to a clear cubicle and told not to move from it, and faced animosity after using his cell phone to call his office.
He added that several TSA employees told him off the record that the body scanning machine sends out false positive so that officials can randomly screen passengers.
Have a listen, courtesy of Fox News:
Have a tip we should know? tips@mediaite.com