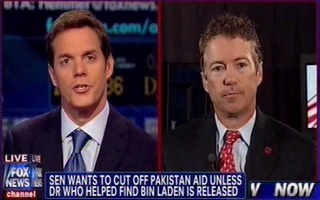 Kentucky Republican Sen. Rand Paul appeared on America's Newsroom on Fox News Channel with anchor Bill Hemmer on Thursday where he discussed his opposition to sending foreign aid to what he considers hostile nations like Pakistan and Egypt. "I think we need to negotiate from a position of strength," said Paul. "That's the way I'd deal with them."

RELATED: Sen. Rand Paul: 'I Didn't Think [Obama's] Views On Marriage Could Get Any Gayer'
Paul is leading the effort to strip Pakistan of all American aid funds until they release the doctor who aided American intelligence efforts that led U.S. forces to Osama bin Laden's compound.
"I think we need to negotiate from a position of strength," said Paul. "I don't think the administration is standing up to Pakistan – giving them a billion dollars and saying please let him go instead of saying 'you don't get a penny until you let him go.' That's the way I'd deal with them."
Paul said he would make all foreign aid contingent on the release of the imprisoned doctor.
Hemmer asked Paul about his thoughts on Egypt. Paul has criticized the Obama administration's protection of American citizens who travel to the African nation to assist in the transition from Hosni Mubarak's government following the-Arab Spring revolutions.
Paul said that foreign aid to nations like Egypt is primarily diverted from the people it is meant to help and ends up going to prop up dictatorships.
"The people have no running water and electricity and yet some of these dictators have some of the most lavish mansion through the world," said Paul.
Paul said that even if his fellow senators do not say so publically, they support his efforts to curb foreign aid. "some of the Senators come up to me quietly and thank me for rattling the cage on this," said Paul.
"Democrats too," asked Hemmer.
"Democrats too, but not many of them have the courage to vote for it," Paul replied.
He said that polls show 75 percent of Americans say that the foreign aid budget should be substantially curtailed. "Sending foreign aid to our enemies is very insulting," Paul concluded.
Watch the segment below via Fox News Channel:
Have a tip we should know? tips@mediaite.com