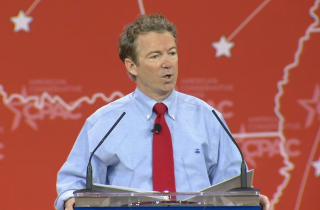 Sen. Rand Paul (R-KY) went after former Secretary of State Hillary Clinton and touted messages of liberty to an enthusiastic crowd at the Conservative Political Action Conference (CPAC) on Friday.
As lovers of liberty, Paul said, conservatives must unite against "imprisonment without trial" and "torture of innocents." On healthcare, Paul blasted Supreme Court Chief Justice John Roberts for his vote to uphold the constitutionality of the Affordable Care Act, and went after President Barack Obama for his "if you like it, you can keep it" healthcare promise. Paul said he wants to "reverse the course of Obamacare and repeal every last bit of it."
On the NSA, Paul fervently defended civil liberties. "I say that your phone records are yours," Paul said, adding it's "none of their [the NSA's] damn business."
He then extensively criticized his potential 2016 presidential rival, Hillary Clinton — but took a slightly different route than that of former Hewlett-Packard CEO Carly Fiorina in her Thursday CPAC speech. As a result of "Hillary's war in Libya," Paul said, Libya is less stable and radical jihadists are running rampant there. Her "dereliction of duty" in Benghazi, he added, should disqualify her from any higher office: "It's time for Hillary Clinton to permanently retire," he said.
Paul then went after President Obama for his decision to arm the Syrian rebels, which he says created ISIS. "I warned that these arms might end up in the hands of jihadists," he said, adding that prediction ultimately came true.
Aside from criticizing potential political opponents, Paul advocated a strong national defense that is "unencumbered by nation building." He also railed against the billions of dollars in foreign aid that the U.S. gives out each year: "It angers me to see mobs burning our flag and chanting death to America in countries that receive our foreign aid. I say it must end. I say not one penny more to these haters of America."
As a result of his trips to places like Ferguson, Detroit, Atlanta, and Chicago, Paul declared that "liberal policies have failed our inner cities." In anticipation of a potential 2016 presidential run, he said he will soon "propose the largest tax cut in American history" that will also aim to cut spending and balance the budget in five years. He also lamented the current dysfunction of Congress: "Even when we agree on things, we can't get anything done."
Midway through the speech, repeated cheers of "President Paul" erupted from the crowd.
Watch the full speech and Q&A session below, via C-SPAN:
[Image via screengrab]
— —
>>Follow Andrew Desiderio (@forza_desiderio) on Twitter
Have a tip we should know? tips@mediaite.com