Rand Paul Slams Obama On NSA Surveillance: 'Utter Rank Hypocrisy' Is Why People Hate Gov't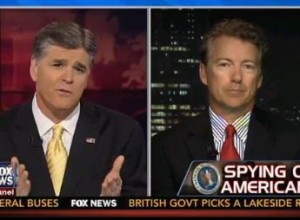 Senator Rand Paul sat down with Sean Hannity tonight to continue piling on NSA surveillance as a threat to Americans' civil liberties. Both he and Hannity tore into President Obama for his complicity on this issue that he spoke out against and decried for years. And on top of everything else, Paul told Hannity that the surveillance isn't even good at looking for terrorists, citing the Boston bombings and the underwear bomber as two examples where better police work was needed.
Paul joked about telling Obama where he is just to cut out the middleman. Hannity noted how the Obama administration "won't use the t-word for terrorism, but apparently they're looking up t for tea party," connecting the IRS scandal to the NSA surveillance. Paul said that the surveillance is "not a very good way to look for terrorists," adding that what's needed is better police work in cases like the Boston bombings rather than sifting through mounds of intelligence.
Hannity ran clip after clip of Obama railing against this kind of massive surveillance, to which Paul decried Obama's "utter rank hypocrisy" which is representative of why people don't trust their government. Paul said, "He says a lot of good things, and he sounds good, but he doesn't really seem to mean anything that he says." Hannity brought up a frank denial of such data surveillance from the director of national intelligence only months ago. Paul suggested he was just "parsing the truth," and plugged the lawsuit he's planning to file against the NSA.
Hannity wondered why, if the government is so concerned about national security, they wouldn't prioritize securing the border. Paul
Watch the video below, courtesy of Fox News:
—–
Follow Josh Feldman on Twitter: @feldmaniac
Have a tip we should know? tips@mediaite.com
Josh Feldman - Senior Editor