Rand Paul To Hannity: 'Constellation Of Scandals' Means Obama Is Losing 'Moral Authority To Lead The Nation'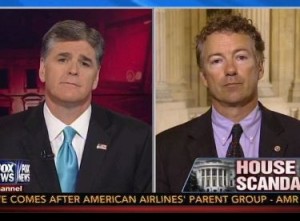 Senator Rand Paul sat down with Sean Hannity tonight to react to news that members of the Obama administration are using secret e-mail accounts to conduct official business. Paul did not express outrage, but rather disappointment with President Obama, saying that he was hoping for a "truly liberal" president who he could trust to "defend the First Amendment," but has instead fostered a "culture of corruption," especially consideirng this latest revelation.


RELATED: 'Not Fit To Lead': GOP Rep. Rails Against Obama's 'Vengefulness And Lack Of Moral Compass'
Paul found it discouraging that the Obama administration has been targeting the press and political enemies. He told Hannity that Obama has been very poor in upholding free speech and freedom of the press, singling out the targeting of Fox News' James Rosen as a co-conspirator. Paul hypothetically threw out the suggestion that if the government labeled a reporter as complicit to terrorism, they could be sent to Guantanamo Bay.
Hannity ran a video of Obama declaring on his first full day in office that he would be making government more transparent, honest, and accountable, specifically saying that "information will not be withheld just because I say so." Paul remarked that he would have applauded Obama if he were in the room for that, but with over four years under his belt, Paul found it clear that Obama "thinks due process is him making a decision." He also charged that the "constellation of scandals" hounding the administration means that Obama is "losing… moral authority to lead the nation."
Paul also sounded off on the Syrian conflict, expressing concerns about the United States getting involved, and remarking that "it's difficult to tell friend from foe" in nations like Syria or Afghanistan.
Watch the video below, courtesy of Fox News:
—–
Follow Josh Feldman on Twitter: @feldmaniac
Have a tip we should know? tips@mediaite.com
Josh Feldman - Senior Editor