Rand Paul to Hannity: 'I Can't Quote Everything Perfectly,' 'We Made a Mistake'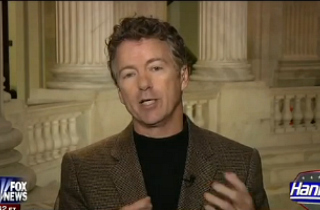 Monday evening on Fox's Hannity, Senator Rand Paul (R-KY) addressed the recent accusations of plagiarism, telling the host "I can't quote everything perfect" and that he and his writing team "made a mistake" by improperly citing quotations within his book.
"It's been a footnote frenzy going on. They have looked at my works, including all of my speeches — which 98 percent of those are extemporaneous — I can't quote everything perfect," the senator told Sean Hannity. "I'm not perfect. I do make mistakes. In the book, in fact, we made a mistake. It should have been blocked off or indented to show that it was a quotation. It was footnoted at the end. We didn't try to pass off anything as our own."
-RELATED: Rand Paul's Wikipedia-Gate Gets Serious and Maddow Gets the Last Laugh
Paul blasted the media for "coming up with absurdities" against him. He gave an example:
I love the story about [Lt. Heather] "Lucky" Penney. She's a fighter pilot, and on 9/11 she scrambled her F-16 to try to stop the final commercial airliner from hitting the White House. She didn't have any missiles on board, but she took a suicide mission and would have had to ram her jet into the plane. That's a great story, but I can't remember where I got it. So am I guilty of not attributing it because I can't remember what AP story or what newspaper originally told her story? Can a speaker not tell stories without always remembering the exact citation? I think it's a standard that no one is being held to.
"I think it's politically motivated," the senator later said. Hannity agreed.
"We have tried at every possible point to attribute things," the senator concluded. "And nothing was ever intentionally used. We give credit to Heritage I think 15 times in the book, to Cato 12 times. And do we always do it properly? Maybe not, but we tried."
Watch below, via Fox News:
— —
>> Follow Andrew Kirell (@AndrewKirell) on Twitter
Have a tip we should know? [email protected]