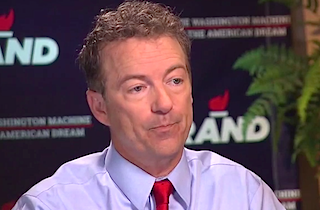 Does Sen. Rand Paul (R-KY) really stand for freedom? That was essentially the question CNN's Dana Bash posed to the 2016 presidential candidate Sunday morning during an interview that also covered his prickly relations with female members of the media.
Noting that part of his New Hampshire stump speech this past week was about people's "right to be left alone," Bash asked Paul, "Why do you believe just as a core principle, as a libertarian, that people should be left alone, but not when it comes to their right to marry somebody they love?"
"I do believe people ought to be left alone," Paul said, ignoring the central question Bash was asking. "I don't care who you are or what you do at home or who your friends are or what, you know, where you hang out, what kind of music you listen to. What you do in your home is your own business."
"But not when it comes to marriage," the CNN reporter interrupted him.
Paul characterized gay marriage as a state issue, but said he believes there is a "religious connotation" to marriage. "I believe in the traditional religious connotation to this," he said. "But I also believe people ought to be treated fairly under the law. I see no reason why if the marriage contract conveys certain things that if you want to marry another woman that you can do that and have a contract."
RELATED: Does Ted Cruz Really Think He Can Talk About a Gay 'Jihad' and Still be President?
"You probably could have both," Paul added. "You could have both the traditional marriage, which I believe in and then you could also have the neutrality of the law that allows people to have contracts with another."
To those fighting for marriage equality, that kind of statement sounds a lot like the "separate but equal" doctrine that justified racial segregation before the Civil Rights Movement 50 years ago.
Paul's commentary of gay rights was even more stark when he was speaking to a group of Evangelical Christians last month. The senator described a "moral crisis" in America that has led some people to believe that there could be "some sort of other marriage" besides one between a man and a woman.
Watch video below, via CNN:
[Photo via screengrab]
— —
>> Follow Matt Wilstein (@TheMattWilstein) on Twitter
Have a tip we should know? tips@mediaite.com