Rand Paul's 'Dramatic Comparison': NSA Surveillance Skips Due Process, Just Like 'Lynchings'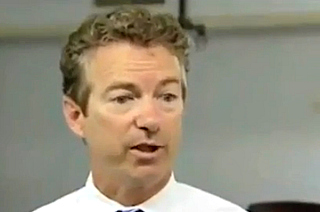 On Friday, while volunteering at Plymouth Community Center in a minority-heavy area of Louisville, Kentucky Senator Rand Paul attempted to melt his libertarian political stance into the history of the Civil Rights movement (again).
"There was a time in our country when we would just say, 'Oh, people are guilty,'" Paul told local television news station WDRB.
"One of them was when we judged the guilt of African Americans by lynching. People say, 'Oh, that's a dramatic comparison.' Well that's why we have steps and processes you go through to make sure you don't have adjudication of guilt without a trial, without a lawyer, without a judge involved."
"I think Republicans need to show up in places where we haven't been showing up," Paul said, explaining his outreach. "And I'm not here asking for anybody's vote, but I want them to know that I am a senator for the whole state, whether people supported me or not, whether they are going to vote for me or not. I want people to know that I do care about all the communities of Louisville and all of Kentucky."
Paul has a fraught history with the African American community. He first gained national attention in 2010 when MSNBC host Rachel Maddow grilled him over his lack of support for the 1964 Civil Right Act. More recently, Paul flubbed a speech at the historically-black Howard University, in which he received vocal and knowledgeable pushback on his reading of the complicated history of African Americans and the GOP.
Watch the clip here:
[h/t Mofopolitics]
—
>> Follow Evan McMurry (@evanmcmurry) on Twitter
Have a tip we should know? tips@mediaite.com