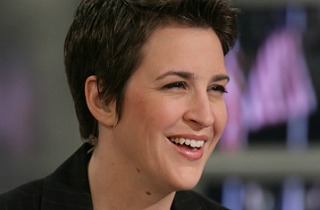 For more than a week, Rachel Maddow, MSNBC's flagship host, has been doggedly pursuing the story surrounding Sen. Rand Paul's (R-KY) lifting of the plotlines of the movie Gattaca from the film's Wikipedia page in a speech. She pursued the story nightly, even when there was no new information to report.

Her tenacity in pursuit of that story inspired a series of jokes among conservatives at Maddow's expense. The seeming frivolity of the infraction on Paul's part (or, more likely, his speechwriting staff's part) did not merit the excessive coverage that Maddow devoted to it. Many believed that the MSNBC host was attempting to reignite her long-standing feud with the senator, even at the risk of her credibility.
But then, one week into the all-encompassing coverage of Paul's "Wikipedia-gate," new details emerged about Paul's history of plagiarism. Far more egregious offenses came to light in outlets like BuzzFeed and the New York Times. No one is laughing now. No one, that is, except Maddow.
RELATED: Rachel Maddow Tears Into Rand Paul's 'Immaturity' Over Plagiarism Charges
"In an op-ed article he wrote for The Washington Times in September on mandatory minimum prison sentences, Mr. Paul, a Republican, appears to have copied language from an essay that had previously run in The Week magazine," Times reporter Jonathan Martin wrote on Monday. He noted that this infraction, first identified by BuzzFeed's Andrew Kaczynski, is the first direct charge of plagiarism against Paul.
"America now jails a higher percentage of its citizens than any other country, including China and Iran, at the staggering cost of $80 billion a year," The Week's Dan Stewart wrote in a post published on September 14, 2013.
"America now jails a higher percentage of its citizens than any other country, including China and Iran, at the staggering cost of $80 billion a year," Paul wrote in The Washington Times, six days later.
The gravity of this revelation was compounded by an earlier report in BuzzFeed which indicated that "three pages" of Paul's book were plagiarized from a 2003 Heritage Foundation study.
Paul and his supporters mocked Maddow's charge of plagiarism surrounding the Wikipedia issue when it first broke. On a Sunday appearance on ABC's This Week, he called the MSNBC host and others pursuing this story "hacks and haters." He protested further, saying that the attacks on him would, in another era, be sufficient cause to call for a duel with the aim of restoring his sullied honor.
On Tuesday night, Maddow shot back at Paul, saying that he is "skirting the line between shame and anger on this." She added that his attacks on those who dare to notice his staff's unethical lifting of whole passages from other outlets a "symptom of immaturity."
Visit NBCNews.com for breaking news, world news, and news about the economy
A week ago, it was Maddow who could have been accused of "immaturity." Today, she is vindicated. There is nothing trivial about plagiarism. Paul would be well-advised to take ownership of these infractions, correct for them, and ensure that they never happen again. Furthermore, he would also be well-served to not lash out at those who criticize them – especially when they can be so easily proven correct.
Update: Maddow claims a scalp. Rand Paul has released a statement in which his office apologizes for his staff's inappropriate references to other published works without citation.
In the thousands of speeches and op-eds Sen. Paul has produced, he has always presented his own ideas, opinions and conclusions. Sen. Paul also relies on a large number of staff and advisers to provide supporting facts and anecdotes – some of which were not clearly sourced or vetted properly.

Footnotes presenting supporting facts were not always used. Going forward, footnotes will be available on request. There have also been occasions where quotations or typesetting indentations have been left out through errors in our approval process. From here forward, quoting, footnoting and citing will be more complete.

Adherence to a new approval process implemented by Sen. Paul will ensure proper citation and accountability in all collaborative works going forward.
[Photo via Virginia Sherwood / NBC ]
— —
> >Follow Noah Rothman (@NoahCRothman) on Twitter
Have a tip we should know? tips@mediaite.com