Randy Walker On Pardoned Mississippi Convict: If I See Him Again, I'd Take It As A Threat, 'Defend Myself'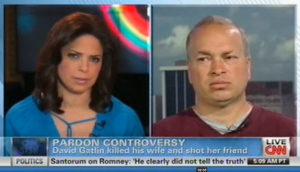 Mississippi Governor Haley Barbour's controversial pardons were upheld by the court on Thursday, and following the decision, Soledad O'Brien spoke to Randy Walker — whose wife was shot by David Gatlin, one of the pardoned convicts, and who was shot in the head himself. Walker said the court's decision was "politically easy," and that if he sees Gatlin he would take it as a threat and defend himself.
Walker, who has made several CNN appearances to discuss this story, said the court "did what was politically easy for them rather than what was right for the people of Mississippi." Neither the court nor Barbour have reached out to him, he added, despite continued requests for a meeting with him.
Later in the segment, O'Brien asked Walker, "Are you worried for your life?" Walker replied:
I think once somebody tries to kill you and they don't succeed, he's always a threat, he or she's always a threat. I've been advised that if I see David in any of my immediate area or whatever, that I should probably take that as a threat. Because he stalked us in the beginning when he did the shooting and tried to kill me. And that's the way I'll take it if I see him again, I'll take it as an immediate threat on my life, and I'll act accordingly.
O'Brien paused and asked, "What does that mean exactly? Act accordingly?"
Walker responded, "I've been advised not to go into it in too much detail, but he would know what it means. […] I would take that as a threat on my life, and I would defend myself."
Take a look, via CNN:
Have a tip we should know? tips@mediaite.com