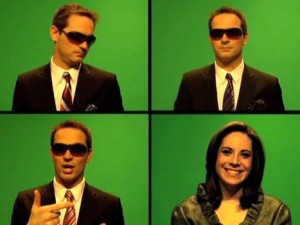 Nick Kosir, aka "The Rapping Weatherman," is that uniquely 21st century breed of celebrity, the viral video superstar. In 2010, Nick's fly forecasts propelled him on a meteoric career trajectory that saw him break onto the national radar, and garnered him a jump from the 141st TV market in the country to the 6th. Along the way, Nick encountered a fork in the road to fame and fortune, and he chose the off-ramp to Twin Falls, Idaho…and true love.

Kosir first hit my radar like a rapid cooling trend last June, when I was tasked with getting the story behind the story of his geektastically funky five-day forecasts. He was toiling  away at Beaumont, Texas Fox affiliate KBTV, and beyond the schtick, he was a funny, self-effacing family man with a healthy measure of ambition. Nick's periodic weather rhymes were garnering national attention, in addition to keeping his Beaumont-area audience in stitches.
When last I heard from Nick last August, he was on his way to a huge new job at San Francisco's KRON-TV, courtesy of all the national publicity he had received. The move would take him from the 141st largest television market in the country, to the 6th. It was like being promoted from a Little League team to the New York Yankees. On a personal level, the thing I most liked about Kosir was his obvious devotion to his wife Danielle, and to his infant son Canon. I hoped that the sudden success wouldn't have a negative impact on that.
It turns out I needn't have worried. A few days ago, I got an email from Nick, hipping me to his latest busting of rhymes. The video, inspired by another viral hit, adds clever visual humor to Kosir's trademark wordplay:
When I was done laughing, I immediately wondered what the hell Nick was doing in Twin Falls, Idaho, co-hosting Rise and Shine Southern Idaho for CBS affiliate KMVT. Nick explained that his job in San Francisco was great for the two days (!) he had it, but something better came along: a job that offered him creative freedom, job security, and best of all, the chance to co-host a morning show with his wife, Danielle.
It's conventional wisdom that married people need time apart, but Nick says he loves working with his wife. He attributes some of that to the fact that they actually met at work. "I met her at the first TV station I ever worked at in Ohio – WMFD," Kosir says, adding "I was the weatherman and she was an intern (insert punchline here)."
The sparks first flew when Nick and Danielle were assigned to cover elections together. "It wasn't long after that we started secretly dating so nobody at the station would know. It was very 'Pam and Jim' from The Office. Except my boss was not near as funny as Steve Carell."
After dating for about a year, and a hilltop proposal that Nick says made him feel "nervous, scared, excited and totally in love all at once," the two were married. One baby Canon later, the couple spend almost all of their days together. They wake up at around 2:15am every day, head to work a little after 3 with baby Canon in tow (they keep a crib at the station), do the show from 5:30-7am, and get off work around noon. "My wife and I have the same bedtime as our two-year old son," Nick says. "It's funny and depressing all at the same time."
The move to Twin Falls was also a move to the 193rd largest TV market in the country, but his expanded role as host meant that he didn't take a cut in pay from the San Francisco job. Nick says the change was "a little better than a lateral move." Although his direct reach is somewhat smaller, this is the 21st century, so with YouTube, Twitter, and Facebook, all the world is still his stage.
As for the future, Nick looks forward to raising his family in Twin Falls, getting the hang of fly-fishing, and… checking out The Hangover 2? He's got a 3-year contract with KMVT, and says the only thing that'll change his plans is "if Lil Wayne calls and offers me a record deal. Ha!"
In a media world that produces a new dysfunction every day, fueled by often unhealthy and unbridled ambition, it's not often that family eclipses such aspirations. Nick's career is a rare, refreshing anomaly that promises a mostly sunny outlook.
Have a tip we should know? tips@mediaite.com