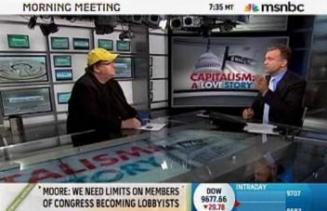 Dylan Ratigan had Michael Moore as a guest on his MSNBC show Friday, as his media tour continued.
And during the interview, Ratigan revealed information about his exit from CNBC – and subsequent return to the NBCU family.
The Huffington Post's Jason Linkins writes about the exchange, in which Ratigan said he was "somebody who left his job at CNBC in order to pursue politicians because of his frustration and anger at the revelation of a system that was clearly designed, basically, to perpetuate generational theft and then cover it up."
Linkins thought this revealed more about CNBC than Ratigan's desire to cover a new subject matter. "It's interesting to hear Ratigan edge right up to saying that CNBC is institutionally averse to providing any clarity or insight into the way in which financial institutions, aided and abetted by well-lobbied politicians, rogered America," he writes.
But this line of reasoning, while not discussed on air, is nothing new for Ratigan. When I interviewed him in July about the new show, he echoed the sentiments about looking to cover the financial story in a new way:
When I watched what happened last fall, and when capitalism switched from who has the best ideas to who can bribe the government so we can steal taxpayer money, it made clear I wanted to make a move from a financial bias to a policy bias in journalism.
The reason for Ratigan's switch does not necessarily mean he wasn't allowed to ask the questions he wanted answered. Rather, CNBC's strict financial focus means there was less of an opportunity to ask questions Ratigan thought were important to policy makers and politicians. It's not a shot at CNBC – but a recognition the story has moved beyond the realm CNBC occupies.
Here's the full interview:
—–
» Follow Steve Krakauer on Twitter
Have a tip we should know? tips@mediaite.com