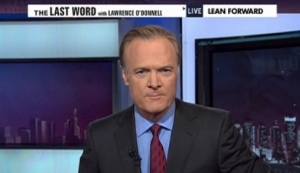 On a week marked by a huge international story–and hefty NBC resources committed to telling it–MSNBC marked an unpleasant milestone, dropping to third place across primetime on February 1. In perhaps the most striking defeat for the network, Lawrence O'Donnell, who took over for the departed Keith Olbermann was soundly defeated by CNN's Parker Spitzer, a show assumed by many to be such a poor performer as to be on the chopping block.

On Tuesday night, Parker Spitzer attracted 292,000 viewers 25-54, compared to O'Donnell's 196,000.
CNN newcomer Piers Morgan, whose show Piers Morgan Tonight has had several ups and downs in its first two weeks, finished strongly ahead of MSNBC's Rachel Maddow (327,000 to 260,000). Morgan broke from single-interview format to cover the Egypt story live, and interviewed former British prime minister Tony Blair.
MSNBC's Ed Show, which relocated to 10 p.m. in the new lineup, was nowhere near CNN's AC 360. Cooper, who's on assignment reporting from Cairo, led with 344,000 to Ed Schultz's 180,000. Cooper has taken an all-in strategy on the Egypt story, immediately flying from New York last week and beginning live coverage over the weekend. Cooper has reported extensively on all CNN programs (and CNN International) and presumably driven viewers to his nightly show. AC360 was the network's only show to move within striking distance of ratings leader Fox News, closing to within 39,000 viewers of timeslot winner Greta Van Susteren.
Here's the full scoreboard:
TV NEWS RATINGS: 25-54 DEMOGRAPHIC (L +SD)
5 pm
Beck

634

Blitzer

317

Matthews

186

Showbiz

98

6 pm
Baier

532

Blitzer

301

Live

153

Prime

106

7 pm
Shep

570

King, USA

275

Matthews

190

Issues

150

8 pm
O'Reilly

831

ParkerSpitzer

292

O'Donnell

196

Grace

217

9 pm
Hannity

478

Morgan

327

Maddow

260

Missing

167

10 pm
Van Susteren

383

Cooper

344

Schultz

180

Behar

94

11 pm
O'Reilly

391

Cooper

245

O'Donnell

200

Showbiz

109

TOTAL DAY
377
218
136
138
PRIME TIME
564
321
212
155
Data by Nielsen Media Research. Live and same day (DVR) data.
TV NEWS RATINGS: TOTAL VIEWERS (L +SD)
5 pm
Beck

2180

Blitzer

845

Matthews

804

Showbiz

213

6 pm
Baier

2482

Blitzer

903

Live

640

Prime

241

7 pm
Shep

2088

King, USA

718

Matthews

702

Issues

415

8 pm
O'Reilly

3627

ParkerSpitzer

825

O'Donnell

948

Grace

688

9 pm
Hannity

2196

Morgan

922

Maddow

1017

Missing

531

10 pm
Van Susteren

1664

Cooper

759

Schultz

711

Behar

344

11 pm
O'Reilly

1205

Cooper

534

O'Donnell

492

Showbiz

302

TOTAL DAY
1512
622
532
312
PRIME TIME
2498
835
901
509
Data by Nielsen Media Research. Live and same day (DVR) data
Have a tip we should know? tips@mediaite.com