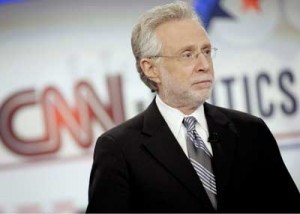 Ah, Wolf Blitzer. The second-place spot hardly knew you. A day after getting his highest ratings at 5 p.m. since October 3, Blitzer stumbled badly, attracting just 85,000 viewers in the 35-54 year-old demo. His numbers were the lowest on CNN's schedule Tuesday night, and he barely beat HLN's 5 p.m. special, squeezing out a 7,000 viewer victory in the demo. Things didn't get much better for CNN in the next hour, either, as John King brought in 96,000 demo viewers, falling far behind Bret Baier and Al Sharpton. The good news for CNN? Anderson Cooper, who got the network their only second-place demo finish of the night, at 8 p.m.
Other numbers of note on Tuesday:
Shepard Smith had a relatively strong night on FOX, finishing second in the demo on the network, behind Bill O'Reilly. His 2.2 million total viewers had him third on the FOX slate.
In the Ed Schultz/Lawrence O'Donnell battle (which they may or may not know we hold here in this post every evening), Schultz finished third in the 8 p.m. slot, while O'Donnell finished second at 10 p.m. O'Donnell drew more viewers in the demo at 10:00 than Schultz did at 8:00, 220,000 to 195,000, but Schultz had more total viewers than O'Donnell.
The underdog show you should be rooting for? Prime News with Vinnie Politan at 6 p.m. Politan deserves more than the 45,000 he got in the demo. One reason for the uncharacteristically low ratings? Both sides rested in the Conrad Murray trial early Tuesday morning and closings won't begin until Thursday.
Here are the complete cable news ratings for Tuesday night:
(Photo credit: Inquisitir)
TV NEWS RATINGS: 25-54 DEMOGRAPHIC (L +SD)
5 pm
The5

228

Blitzer

85

Matthews

134

Special

78

6 pm
Baier

367

King, USA

96

Sharpton

162

Prime

45

7 pm
Shep

457

Burnett

126

Matthews

187

Issues

115

8 pm
O'Reilly

665

Cooper

234

Schultz

195

Grace

181

9 pm
Hannity

429

Piers

128

Maddow

230

Dr. Drew

101

10 pm
Van Susteren

344

Cooper

200

O'Donnell

220

Behar

109

11 pm
O'Reilly

409

Burnett

153

Schultz

164

Showbiz

127

TOTAL DAY
309
129
136
105
PRIME TIME
480
187
215
128
Data by Nielsen Media Research. Live and same day (DVR) data.
TV NEWS RATINGS: TOTAL VIEWERS (L +SD)
5 pm
The5

1,417

Blitzer

419

Matthews

765

Special

341

6 pm
Baier

2,125

King, USA

500

Sharpton

807

Prime
267
7 pm
Shep

2,206

Burnett

474

Matthews

873

Issues

376

8 pm
O'Reilly

3,364

Cooper

640

Schultz

1,033

Grace

641

9 pm
Hannity

2,379

Piers

469

Maddow

947

DrDrew

361

10 pm
Greta

1,891

Cooper

571

O'Donnell
879
Behar

389

11 pm
O'Reilly

1,322

Burnett

383

Schultz
454
Showbiz

335

TOTAL DAY
1,418
418
521
312
PRIME TIME
2,548
561
953
457
Data by Nielsen Media Research. Live and same day (DVR) data
Have a tip we should know? tips@mediaite.com