Debate Gives CNN Ratings Win; Erin Burnett Sees Big Boost, But Still Comes In Third
(Photo by Ethan Miller/Getty Images)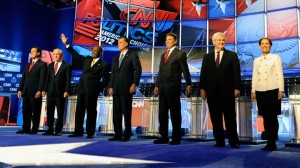 Last night's Republican debate gave CNN a ratings win last night, with a very impressive 5.5 million people tuning in. The big numbers translated to increased viewers across CNN's entire evening slate of programs, but the build-up to the debate didn't garner Erin Burnett a win as the lead-in — she finished third in the 7 p.m. time-slot, behind Shepard Smith and Chris Matthews. The debate did, however, almost double Burnett's numbers from Monday night, bringing her from approximately 330,000 viewers to 636,000. Will the extra exposure translate into more viewers sticking around permanently? Find out tomorrow.
Other nuggets:
The 5.5 Million total viewers is the second most viewers for a GOP debate thus far, falling just short of 6.1 million viewers who tuned into the Fox News debate aired on September 22nd.
Shepard Smith's numbers at 7 p.m. actually went up from Monday, in spite of the debate taking place on CNN and most viewers planning on abandoning him for CNN at 8. O'Reilly and Hannity saw dips as the debate's direct competition, but Van Susteren reeled viewers back in at 10 p.m., after the debate had finished.
Not everyone saw viewer losses against the debate. Nancy Grace and Dr. Drew, programmed against the debate at 8 p.m., actually saw a jump in eyeballs from Monday to Tuesday. The debate siphoned viewers away from the other networks, but Grace and Pinsky seemed to have been successful counter-programming.
Order was restored at 11 p.m., when a repeat of O'Reilly downed a repeat of the debate.
Here are the complete cable news ratings for Tuesday night:
TV NEWS RATINGS: 25-54 DEMOGRAPHIC (L +SD)
5 pm
The5

390

Blitzer

155

Matthews

171

Special

88

6 pm
Baier

379

King, USA

73

Sharpton

136

Prime

102

7 pm
Shep

563

Burnett

157

Matthews

177

Issues

114

8 pm
O'Reilly

548

GOP Debate


1.660

O'Donnell

158

Grace

163

9 pm
Hannity

437

GOP Debate (2)


1.536

Maddow

200

DrDrew

94

10 pm
Van Susteren

515

Cooper

735

Schultz

176

Behar

89

11 pm
O'Reilly

533

GOP Debate


439

O'Donnell

102

Showbiz

67

TOTAL DAY
337
342
97
105
PRIME TIME
500
1.347
172
112
Data by Nielsen Media Research. Live and same day (DVR) data.
TV NEWS RATINGS: TOTAL VIEWERS (L +SD)
5 pm
The5

1,671

Blitzer

622

Matthews

729

Special

317

6 pm
Baier

1,924

King, USA

412

Sharpton

670

Prime

329

7 pm
Shep

2.031

Burnett

636

Matthews

791

Issues

395

8 pm
O'Reilly

2.534

GOP Debate


5.495

O'Donnell

704

Grace

527

9 pm
Hannity

1.632

GOP Debate (2)


5.082

Maddow

790

DrDrew

360

10 pm
Greta

1,991

Cooper

2.244

Ed Show

1.009

Behar

443

11 pm
O'Reilly

1,503

GOP Debate


1.115

O'Donnell

527

Showbiz

296

TOTAL DAY
1,341
1.093
495
278
PRIME TIME
2,054
4.396
834
435
Data by Nielsen Media Research. Live and same day (DVR) data
Have a tip we should know? tips@mediaite.com