Ratings: Wolf Blitzer's Steve Jobs Coverage Helps CNN Beat MSNBC On Big News Night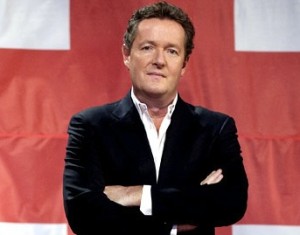 Last night was a big night for news and, perhaps not surprisingly, many more television sets were tuned into CNN as a result. Steve Jobs' death, Sarah Palin's "non-presidential" announcement and the ongoing story of Occupy Wall Street protests combined to give the self-described "Most Trusted Name In News" a ratings victory over MSNBC. Of course, this victory means that the can proudly proclaim that they were the second most watch cable news channel, far behind the still behind first place Fox News.
Promotional resources at Piers Morgan Tonight spent the better part of the day touting a "must-see" interview with Family Guy creator Seth McFarlane, but CNN called a audible and had Wolf Blitzer fill-in with the news of Jobs' death. The hustle paid off as the 9PM slot got the biggest number of the evening.
Fox News programmers know their audience, many of whom probably didn't share the same need to watch the instant hagiography of Steve Jobs on the other channels. So it made some sense that they stayed in a pre-taped O'Reilly Factor while MSNBC and CNN were live with news of Jobs' passing. The big numbers that O'Reilly typically gets were unaffected by this decision.
Here are the complete cable news ratings for Tuesday night:
TV NEWS RATINGS: 25-54 DEMOGRAPHIC (L +SD)
5 pm
The5

275

Blitzer

98

Matthews

107

Special

176

6 pm
Baier

280

King, USA

99

Sharpton

137

Prime

177

7 pm
Shep

436

Burnett

143

Matthews

126

Issues

157

8 pm
O'Reilly

643

Cooper

284

O'Donnell

166

Grace

182

9 pm
Hannity

502

Morgan

365

Maddow

174

DrDrew

111

10 pm
Van Susteren

405

Cooper

387

Schultz

176

Behar

137

11 pm
O'Reilly

416

Cooper

569

O'Donnell

102

Showbiz

107

TOTAL DAY
279
151
97
128
PRIME TIME
518
346
172
143
Data by Nielsen Media Research. Live and same day (DVR) data.
TV NEWS RATINGS: TOTAL VIEWERS (L +SD)
5 pm
The5

1,458

Blitzer

632

Matthews

557

Special

589

6 pm
Baier

1,744

King, USA

484

Sharpton

594

Prime

543

7 pm
Shep

1,887

Burnett

510

Matthews

664

Issues

491

8 pm
O'Reilly

3,504

Cooper

821

O'Donnell

686

Grace

730

9 pm
Hannity

2,280

Morgan

992

Maddow

672

DrDrew

462

10 pm
Greta

1,739

Cooper

854

Ed Show

712

Behar

441

11 pm
O'Reilly

1,225

Cooper

569

O'Donnell

307

Showbiz

417

TOTAL DAY
1,221
438
369
361
PRIME TIME
2,510
889
690
537
Data by Nielsen Media Research. Live and same day (DVR) data
Have a tip we should know? tips@mediaite.com