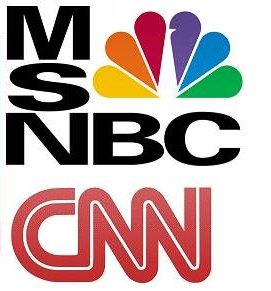 Oh, CNN and MSNBC – when did you become such rivals?
It's time to look at May ratings, and judging by their respective press releases, CNN and MSNBC have focused on demolishing one another as Fox News looks on from first place. So here's a look at some key points – while sticking to the competitive theme.
• Last night MSNBC's Keith Olbermann took a shot at CNN's Campbell Brown, including discussing her program's ratings. Well May was Olbermann's lowest in the A25-54 demographic during 2010, and year-to-year the program was down 23% (compared to Brown's which was down just 8%). In total viewers, however, the numbers were basically reversed.
• Let's look at the mornings – while Morning Joe had more total viewers than CNN's American Morning, the program was 4th in the demo. HLN's Morning Express jumped to 2nd there.
• While all networks saw declines year-to-year in most categories, MSNBC was generally down the least (even less than Fox News). At 9pmET, Rachel Maddow grew year-to-year in total viewers while her CNN competition, Larry King, had his worst month in more than 20 years.
• The pre-prime time bragging rights: for CNN, it's 5pmET: Wolf Blitzer is beating MSNBC in both categories and is up 16% in the demo. Meanwhile for MSNBC it's 6pmET and 7pmET, beating CNN and Chris Matthews up huge in total viewers over John King.
There's more of course. Enjoy navigating that on your own – next page…
>>>NEXT PAGE: See MSNBC and CNN's full press releases.
Have a tip we should know? tips@mediaite.com