Rattled Campaign Manager Tries to Explain Why Donald Trump Lied for Five Years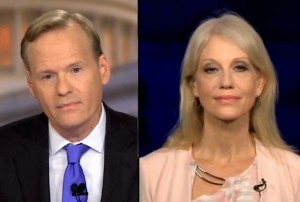 Something remarkable happened on Sunday morning's Face the Nation, or rather, something that would be remarkable in any normal presidential election. Host John Dickerson got Donald Trump campaign manager Kellyanne Conway to issue two stunning tacit admissions that her candidate is a liar, and then Dickerson remarkably sort of apologized for it.
On Friday morning, Donald Trump ended his years-long crusade to smear President Obama by lying about Hillary Clinton, lying about his own actions, and finally stating the obvious fact that everyone else already knew: that Barack Obama was born in the United States. When Dickerson confronted Conway with the lie that Trump's campaign put out and Trump repeated, that Trump had put an end to the controversy in 2011, she didn't challenge that the lie was a lie, and when Dickerson followed up by asking Conway why Trump promoted a lie for five years, Conway similarly accepted that characterization as truth (emphasis mine):
John Dickerson: So when the campaign puts out a statement and says he ended in 2011, that's just not the truth, is it?

Kellyanne Conway: No, I didn't say that. What I'm saying is…

…John Dickerson: Donald Trump advocated something for five years that was a lie. Why did he do that?

Kellyanne Conway: Well, you're going to have to ask him, but again, I think this is a side show now.
Conway was so rattled that she identified the 17 Medal of Honor winners who attended the event as "14 gold medal recipients," while also appearing to invent the word "freespectfully." Trump still hasn't had to answer for the lies he told about sending investigators to Hawaii, and given that Dickerson was almost apologetic for even having asked about the controversy, it's unlikely he ever will.
Meanwhile, try to imagine what would happen if Hillary Clinton's campaign manager was asked why she lied about something, and the answer was "Well, you're going to have to ask her." Hell, imagine it was a Hilary Clinton supporter's second-cousin who gave that answer on TV.
This is an opinion piece. The views expressed in this article are those of just the author.