Raven-Symoné: Caitlyn Jenner's 'Got To Learn It First' Before Being LGBT Rep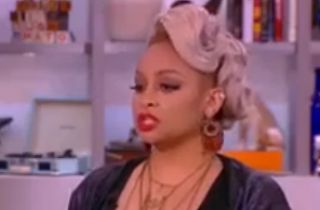 On Monday's episode of The View, one of the talking points was the first episode of Caitlyn Jenner's documentary series I Am Cait. Co-host Raven-Symoné (who came out last year) spoke today about how she wasn't blaming Jenner for her prominence ever since coming out, but thought that too much too fast was happening for her to be representing the community at large.
Symone said, "I think it's wonderful, and yes, it needs a light being shined on it," but voiced her surprise that Jenner was so quick to share as many stories of struggle and transition as she has.
"When I came out, I didn't go and go hardcore and be like, 'I'm going to save the world for LGBT,'" she said. "You've got to learn it. You've got to learn it first."
Rosie Perez suggested that Jenner might have been strategically waiting for a proper platform that would let her tell her story in earnest. Symoné agreed with that strategy could've been part of it, bringing up her LGBT experience before before coming out, but she also stressed that being LGBT is not a pre-requisite for advocacy.
Symoné said that the future episodes will give an interesting look into the dynamics of Jenner's transformation. She agreed with Perez that Jenner's transition was a great thing, and that it happens at everyone's own pace, but it was a lot for her to take in for the first episode.
You can watch the segment here:
[h/t The Wrap]
[Image via Screengrab]
Have a tip we should know? tips@mediaite.com