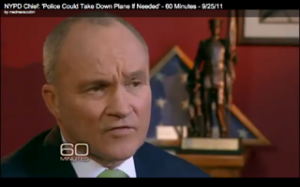 NYPD commissioner Ray Kelly has built himself quite the counter-terrorism unit. Appearing last night on CBS's 60 Minutes, Kelly broke down some of the changes he's made in the wake of September 11th. "I knew that we had to supplement, buttress our defenses," he told Scott Pelley. "We couldn't rely on the federal government alone." And so he put his 50,000 employees to work devising a heavy-handed anti-terrorism unit on par with any military's, complete with nuclear radiation detectors, an extensive network of surveillance cameras and, most awesomely, the ability to shoot down rouge aircrafts.
Interviewer Pelley pressed, "Are you satisfied that you've dealt with threats from aircraft, even light planes, model planes, that kind of thing?"
"It's something that's on our radar screen. In an extreme situation, we have some means to take down a plane," Kelly replied coyly. "I'd prefer not to get into the details, but obviously this would be a very extreme situation."
Wired explains that that Kelly is most likely referring to a simple sniper rifle that can be attached to NYPD helicopters and aimed at the engines of small planes. And as Tom McGeveran at Capital New York points out, this isn't exactly revelatory: New York Daily News reported on the NYPD's aerial capabilities back in 2005. But nonetheless, New York media has been gripped once more by the NYPD's staggering expression of power.
CBS's survey of the $3 billion system also explored the NYPD's sensitive nuclear radiation detectors (which can even pick up hints of radiation left in a body after medical treatment), their use of officers operating internationally ("Is there anything going on there that can help us better protect the city?"), and their extensive, state of the art surveillance network.
"Nobody has a system like this," said Jessica Tisch, the department's director of policy and planning for counterterrorism, explaining that it would be impossible to walk a block in lower Manhattan without being caught on camera. Not addressed were recent AP investigations of NYPD surveillance targeted specifically at muslim communities. Although they did make mention of an NYPD cricket league intended to win the affection of South Asian New Yorkers.
Watch the full segment below:

Have a tip we should know? tips@mediaite.com