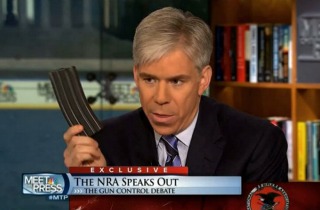 Former Meet the Press moderator David Gregory was never officially punished for brandishing an illegal high-capacity ammo magazine on-air back in December 2012, but now we can read the affidavit supporting a warrant for his arrest by the D.C. Metropolitan Police Department.
To refresh the collective Mediaite readership's memory: After the horrific Sandy Hook massacre, Gregory grilled NRA chief Wayne LaPierre on MTP, and, at one point, busted out a 30-round magazine — banned in Washington, D.C. — to make a point about gun laws.
Police investigated the possession and determined it illegal, despite NBC's claims that it had obtained permission.
The MPD actually recommended a warrant for Gregory's arrest but, as Legal Insurrection reported, that was nixed by a D.C. attorney general because of extenuating circumstances. For two years, the conservative legal blog sought a copy of the arrest warrant as another piece of the puzzle explaining why D.C. prosecutors go hard after regular citizens who violate the magazine laws, while giving a free pass to high-profile violators like Gregory.
After several legal challenges, the blog finally obtained the document.
The affidavit in support of a warrant for Gregory's arrest lays out a timeline in which a redacted NBC reporter contacts the Bureau of Alcohol, Tobacco, and Firearms (ATF) to check on the legality of possessing an unloaded magazine for news purposes. Four days after the Meet the Press broadcast, an investigation was assigned and lawyers were called.
11 days later, the police obtained the magazine used on NBC's broadcast, and ultimately recommended a warrant for the arrest of David Gregory. He was never arrested or prosecuted.
Read the full document below, via Legal Insurrection:
— —
>> Follow Andrew Kirell (@AndrewKirell) on Twitter
Have a tip we should know? tips@mediaite.com