Real-Life Version of 'Snakes on a Plane' Causes Aircraft To Make Emergency Landing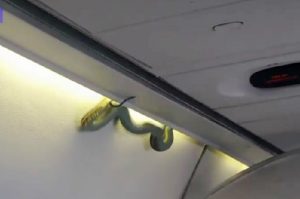 In a scene imitating the 2006 cult classic Snakes On A Plane, a commercial flight had to make an emergency landing in Mexico after a large serpent was found slithering out of an overhead compartment.
According to ABC News, passenger Indalecio Medina shot video of the snake along with ceiling of the cabin near a window.
He stated that he was able to control the snake with a blanket once it dropped from the ceiling. The Aeromexico flight was then given priority landing in Mexico City so authorities could handle the animal.
WATCH: Snake on a plane! A large snake falls from overhead in the middle of an Aeromexico​ flight: https://t.co/5MqEWN684E pic.twitter.com/DmsxGRvyon

— Good Morning America (@GMA) November 7, 2016
In a statement, the airline said it was checking to see how the snake got on the plane:
"The procedures carried out for this flight are currently being evaluated to determine how the animal entered the cabin and measures have been taken to avoid such incidents in the future," Aeroméxico added. "For Aeroméxico, the security of its passengers and crew is of the highest priority and it always works to meet the highest quality standards."
Of course, after the news hot, many took to Twitter to make the obvious comparison to the Samuel Jackson starrer.
2016 would definitely be the year that Snakes on a Plane comes true…

— Olive Batman (@offbeatoliv) November 8, 2016
Bruh SNAKES ON A PLANE in real life?? https://t.co/Al7A5ZrOt8

— CHRI$ (@Chrisrod001) November 7, 2016
https://t.co/0yiUbuC7kt. How could 2016 get weirder, you ask? I give you: actual snakes on a plane.

— Kyle Brogle (@broglek) November 8, 2016
No matter how your Monday has gone, at least you didn't experience snakes on a plane. https://t.co/e7ZYtko6pL

— Kenneth Keathley (@ken_keathley) November 7, 2016
Snake on a plane! Really. https://t.co/NUyLu1k7KA

— Christina H. Sommers (@CHSommers) November 7, 2016
"I have HAD it…" https://t.co/sAhw1ugfH2

— Alex Griswold (@HashtagGriswold) November 7, 2016
Or, as Jackson himself would say it, "I've had it with these motherf*cking snakes on this motherf*cking plane!"
Watch the clip above, via ABC News.
[image via screengrab]
—
Follow Justin Baragona on Twitter: @justinbaragona
Have a tip we should know? tips@mediaite.com