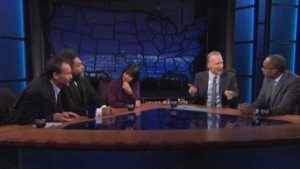 Tonight's episode of Real Time with Bill Maher featured a passionate debate between Cornel West, a Princeton professor who has attended many of the Occupy Wall Street protests, and Ron Christie, a Republican strategist who previously worked as a staffer for Vice President Dick Cheney. The first topic of discussion after Christie came on the panel was Libya and why Republicans were not willing to give President Obama credit for carrying out the operation.
Christie explained that before going into Libya, it was important to ask what the clear objective was, how to win, and "what is the definition of success." Former CNN foreign correspondent Michael Ware, who spent roughly seven years in Iraq, exploded at this point and asked why he didn't ask those same questions when he served in the Bush administration.
At one point, Christie pointed out that the Iraq war resolution was supported by both Democrats and Republicans, and that's when West grew visibly upset, arguing it was "the wrong decision" no matter who supported it. And… you know what? There are really no words to describe the clear fury in West's eyes as he goes after Christie with every fiber in his being. Journalist Michelle Goldberg gets in a short criticism of Christie's points, but really, it's hard to follow West's emotional tirade. And even if you don't agree with what Ware and West are saying, watch this for no other reason than to see their epic brohug towards the end.
Watch the video below, courtesy of HBO:
Have a tip we should know? tips@mediaite.com
Josh Feldman - Senior Editor