'Really?!' Fox's Gretchen Carlson Can't Believe Her Guests All Love Pot So Much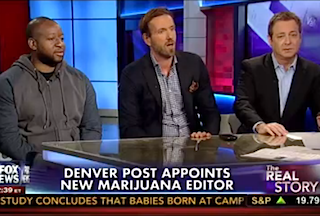 If you're going to have a debate about marijuana with three panelists on Fox News, you have to think that at least one, if not more, would be on the anti-pot side. But somehow, The Real Story with Gretchen Carlson assembled itself a panel of three gung-ho weed legalization enthusiasts to praise The Denver Post for hiring its first marijuana editor now that recreational use of the drug is legal in that state.
"How would you like to be the new marijuana editor?" Carlson asked rhetorically, though comedian Sherrod Small chimed in with "Yes!" from off-camera. She then played clips of the new editor from last night's Colbert Report, before opening the discussion to the larger group.
Small kicked things off by saying he did his "research" before coming on set, and if that wasn't clear enough he added that he "smoked something" to get in the mood for the Fox appearance. "That is a good job to have," he said. "I mean, I never saw this section in college when I went to college that I could be an editor-in-chief of pot."
Retired British officer Michael Kay agreed that he would take the job as well were it offered to him, calling it a "really, really smart move" by the Denver paper. He said that "cannabis has suffered from this legacy" of being a "fearful" substance with the proper science and evidence to back it up, something that the new beat could help change.
Carlson openly mocked his use of the word "cannabis," which she said makes it sound "so much more official," before attempting to offer a counter argument to the enthusiasm with which she was faced. "Is this a bad idea?" she asked. "Is this a downward spiral of our culture that we're not going to have someone covering pot and how people are using it?"
"I don't think so," Fox's Andy Levy told her, to what had to be her utter disappointment. As marijuana is now legal in Colorado, he said, "I don't see where it's any different that The New York Times having an article about wine."
"Really?!" Carlson asked in disbelief, before getting a chorus of affirmation from her three guests. Grasping at straws, she asked, "So the research doesn't bother you that smoking pot can cause man boobs?"
There was a short pause before Small exclaimed, "Bring 'em on!"
Watch video below, via Fox News:
[photo via screengrab]
— —
>> Follow Matt Wilstein (@TheMattWilstein) on Twitter
Have a tip we should know? tips@mediaite.com