Reason's Matt Welch Challenges MSNBC Anchor on 'Myth' That Obama's a Great Communicator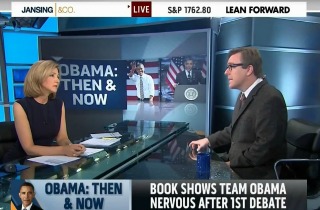 Reason magazine's Matt Welch delivered Democrats and President Barack Obama's supporters in the media a dose of tough medicine on Monday morning. MSNBC anchor Chris Jansing appeared discomforted when Welch threw cold water on the notion that Obama is the best presidential communicator since Ronald Reagan. In fact, when Jansing attempted to counter the idea that Obama is a lackluster communicator, she chose as an example an event which inadvertently confirmed his thesis.

Jansing began by highlighting an event in the book Double Down which chronicles the 2012 election in which Obama's advisors staged an "intervention" after the first debate and forced him to recalibrate his approach to debating Mitt Romney.
"For a president who has been such an incredible communicator, has communications sometimes been his downfall, too?" Jansing asked Welch.
"I think he's been an incredibly bad communicator," Welch replied. "I think it's actually kind of a myth that he has special talent to convince the American people about things, especially when it comes to Obamacare."
"Well, you know," Jansing interrupted. "I've seen him do some amazing things, like after Newtown."
"He's very, very good at winning elections," Welch conceded. "He's also very good at soothing people at moments of tragedy, but that's not to say he's good at selling policies."
Not only is Welch self-evidently correct, but Jansing implicitly made his point for him. In December of 2012, just over one month after Obama won a historic reelection victory and became the first Democratic president since Franklin Delano Roosevelt to be returned to office with more than 50 percent of the vote, the Newtown massacre rocked the nation.
In its immediate wake, support for new gun control legislation reached new highs. According to a CBS News Poll taken in the immediate aftermath of that horrific shooting incident, 57 percent of those polled said that they favored "gun control laws." This included 78 percent of Democrats and 48 percent of independents.
The political will was there, the momentum was palpable, and the president fully embraced the cause of stricter gun laws. Indeed, he made new gun laws the centerpiece of his first post-election State of the Union address.
RELATED: 'Pretty Shameful Day For Washington': Obama Rips Senate Failure, Calls Out Gun Lobby For 'Willful Lies'
The president employed campaign-style tactics to motivate legislators to push forward on the issue to no avail. Over the course of the winter months, the scope of proposed new gun laws rapidly contracted with ever smaller compromise proposals being floated by the members of Congress. Each was eventually shot down.
By April 17, when the last potential compromise on new gun laws died in the Senate, the president could only muster an impromptu Rose Garden address in which he scolded Congress – and their constituents by implication – for failing to act on a policy he had insisted in no was among his top priorities. He went ignored by the members of the Congress and the public.
Yes, the president comforted the public after Newtown ably, just as he had in the wake of the tragic shootings in Tucson, Arizona in early 2011. But proficient consoling is not leadership. Feeling the public's pain is not the same as translating that pain into concrete achievements.
Similarly, as the deeply troubling and entirely foreseen consequences of the ACA become clear, it is also clear that the president misled the public on what were the expected consequences of his signature legislative achievement. Far from thanking him for his mendacity, the public is lashing out – evidenced initially by his falling approval ratings and those of his party.
In this instance, the president was not merely a poor communicator. He abdicated entirely his role as a communicator and misled the public rather than attempt to sell them on a politically difficult idea: the notion that some health insurance policies should be cancelled and the public should pay more for services they do not need in order to subsidize care for those who cannot afford it. A "great communicator" would make that case if they truly believed it. The president avoided making this case entirely because it was just too hard a sell. There is nothing "great" about that strategy.
Confirmation of the public's disgust with Obama's style of governance will become more tangible when voters across the country head to the polls in a year's time. Then, it seems increasingly likely they will provide political commentators with all the ammunition they need to see that Welch was right all along.
[Photo via screen grab]
— —
> >Follow Noah Rothman (@NoahCRothman) on Twitter
Have a tip we should know? tips@mediaite.com