Rebels Take Down Plane In Benghazi As French Jets Enter Libya During 'Ceasefire'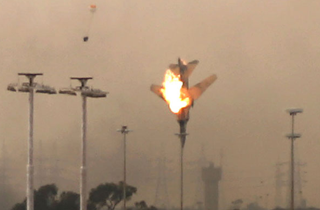 The struggle between Libyan leader Muammar Gaddafi and rebel leaders in the opposition stronghold of Benghazi has taken yet another dramatic turn, this time with the severely underarmed rebels shooting down a plane near the outskirts of the city. Meanwhile, the consequences of the UN's actions earlier this week have begun to show, with the French air force entering the country today– all this while Gaddafi has announced he has implemented a ceasefire.
According to the New York Times, the ceasefire has been anything but, with reports of "heavy bombardment and fighting" in Benghazi that defy Gaddafi's statements. At least some of the weaponry seen, however, appears to be from international sources. French President Nicolas Sarkozy has announced that French jets are already enforcing a no-fly zone over Libya. Gaddafi, however, continued to insist in a letter to nations agreeing to enter Libya that he was "confronting Al Qaeda" and "nothing more." To President Barack Obama specifically, Gaddafi wrote that even in the event that American military forces enter Libya, "you will always remain my son and I have all the love for you as a son."
AP reports that the neighboring city of Misrata is in turmoil as well:
Misrata, Libya's third-largest city and the last held by rebels in the west, came under sustained assault well after the cease-fire announcement, according to rebels and a doctor there. The doctor, who spoke on condition of anonymity because he feared reprisals, said Gadhafi's snipers were on rooftops and his forces were searching homes for rebels.
As for the plane crash, reports cite rebels celebrating it, and the footage makes it appear as if it was shot down from below. More pictures of the crash from the UK Sun, and the footage of the plane being shot down via Al Jazeera below:

Have a tip we should know? tips@mediaite.com