LA Times Reporter Recounts The Final Hours Of Whitney Houston's Life: 'Something Was Off With Her'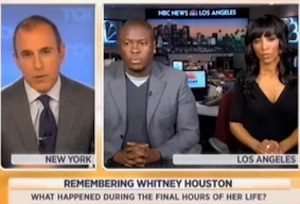 On NBC's TODAY, Matt Lauer spoke with Los Angeles Times music reporter Gerrick Kennedy, who was one of the last people to see Whitney Houston before she died.
"You're at the hotel for a press event," Lauer asked. "You ran into Houston. Describe her behavior for me."
"You know, she was very — almost kind of frantic," Robinson said. "There was a bit of erraticness in her behavior, you know, when I actually… had the first time to interact with her outside in the lobby. She was wandering around aimlessly, almost like a child. She seemed a little lost. She asked me if rehearsals were done. I said, yes. She walked right back in. That was kind of the first interaction I had, but as the day went on, you know, you got more glimpses of her and you kind of got another taste of the fact that something was off with her that day." He said that he could smell cigarettes and alcohol on her breath. "She obviously had a couple drinks in her system," Kennedy added, saying that media didn't report on the incident because Houston wasn't there for any high-profile appearances; she was there to help singers Brandy and Monica.
RELATED: The Most Disturbing Moment From Whitney Houston's 2002 Diane Sawyer Interview
Kennedy reported that, "though Houston greeted people with a warm smile, she appeared disheveled in mismatched clothes and hair that was dripping wet with either sweat or water."
The visibly bloated singer displayed erratic behavior throughout the afternoon — flailing her hands frenetically as she spoke to Brandy and Monica, skipping around the ballroom in a child-like fashion and wandering aimlessly about the lobby. It was mentioned by a Grammy staffer that security personnel received calls of the singer doing handstands by the pool.

After leaving rehearsals, Houston returned to the ballroom — with her teenage daughter Bobbi Kristina in tow — as camera crews set up for interviews. The singer smelled of alcohol and cigarettes. A Grammy staffer said that during the interviews with Brandy, Monica and Clive, Houston was dancing just off camera to make the singers and Davis laugh. Grammy personnel expressed concern that she'd be caught on camera, and that reporters would write about her behavior.

Finally her daughter pulled Houston out of the room, and the singer skipped off. In our post of the event, we called Houston's behavior "loose and lively."
Watch Kennedy describe Houston's final moments below, via NBC:

Have a tip we should know? tips@mediaite.com