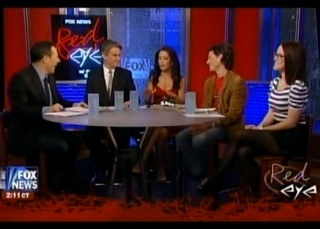 Abstinence advocate and pseudo-motivational speaker Bristol Palin received some bad news this week when Washington University in St. Louis revoked her invitation to speak at their "Sexual Responsibility Week." Given that the university had previously welcomed personalities such as Van Jones to campus, many are arguing that the younger Palin's exclusion from the event was political, and last night/this morning the Red Eye crew stood up for her ability to teach on the matter.
Host Greg Gutfeld was particularly certain of the fact that the excuse given for her speaking event to be canceled– that the $17,500 speaking fee was too high– was a ruse to cover up political disagreement. "They pretend it's about money," he argued, "but really, it's about ideology."He also identified it as a trend against "any woman that presents a view that isn't liberalspeak or politically correct," both views with which he found an ally in panelist Bill Whittle. To him, for conservatives, "the wedge is going to be you're either evil or you're stupid" unless you're a Palin, in which case, both. Whittle was the lone panelist to feel comfortable with the asking price on Palin as a speaker, arguing that a speaker is only worth "what a speaker draws," and the details don't matter to the asking price.
While most of the panel seemed comfortable with the idea of Palin speaking about abstinence, the fact that she was getting so much money out of it to begin with seemed questionable to some, namely S.E. Cupp, who summarized Palin's career as "the definition of falling ass-backwards into money" (the panel then reflected for a moment on how nice it would feel to literally fall ass-backwards into a pile of money). Despite admitting that she supported Palin's efforts, Cupp found the price "a little steep" and, which Gutfeld jokingly accused her of mere professional jealousy, "I have avoided getting pregnant and I want to be rewarded!"
During the Half-Time Report, Andy Levy jumped into the mix to defend Palin as a speaker from Remy Spencer, the lone panelist who objected to Palin as a speaker given her past. "Isn't that the same as recovering drug addicts?" Levy argued, noting that one can warn others not to behave badly after having engaged in bad behavior. Spencer replied that she was uncomfortable with comparing pregnancy to drug addiction, and looked around to find a better female role model worth a $17,500 speaking fee. She didn't have to look too far, nominating Cupp for the job (and the money, to which Cupp had no objections whatsoever).
Speaking of drugs and illegitimate pregnancies, Red Eye's ever-eligible Bill Schulz rounded out the segment with a friendly solicitation to "single moms out there looking for a drug addict"– "Call me, ladies!"
The panel discussion and Half-Time Report via Fox News below:

Have a tip we should know? tips@mediaite.com