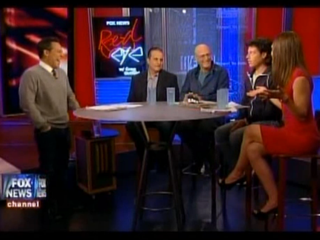 The most recent Donald Trump media mess comes thanks to Jerry Seinfeld, who withdrew from a charity event for St. Jude's Hospital in light of all of Trump's birther hoo-hah. While most have taken Seinfeld's claim that he has withdrawn on principle at face value, Greg Gutfeld proposed a fairly innovative alternative to that explanation: Seinfeld just didn't want partake in a stuffy charity ceremony and saw the perfect excuse to bail.
Gutfeld read his panel the notice that "Jerry has respectfully withdrawn from the event," as well as Trump's retort insulting Seinfeld's low-ratings show The Marriage Ref (the latter in a "bad British accent," because why not). In going around the table trying to understand Seinfeld's rationale, comedian Nick DiPaolo noted that, as a "New York lib," Seinfeld "put ideology ahead of anything," though former Democratic Congressional nominee Krystal Ball interjected to note that Seinfeld had, in fact, given the money he had pledged to the charity. Whatever Seinfeld's reasoning, the panel did manage to agree on one thing: Donald Trump was being a "total dingus"– something Ball, as a Democrat, could not be more elated about.
Luckily, the children are going to get a substitute performer– but, unfortunately, that "performer" is Bret Michaels, which Gutfeld jokingly called a "win-win," only to be corrected by Bill Schulz: "the kids lose!" Schulz didn't seem to see a problem with Seinfeld leaving, since the kids "don't know Jerry Seinfeld from Nancy Pelosi," but "you've got Bret going in there spreaking all manner of disease… that's a loss for the kids," he joked.
Whatever the result, Gutfeld appeared by the end of his segment to be convinced that Seinfeld's "principle" was just "a great way out of something," to which Schulz ceded that, if true, "he's a genius." By the time Andy Levy rolled around for the Halftime Report, Gutfeld could already see Seinfeld sitting "at home in his khaki/jean combination watching the Mets" instead of bothering with the charity event, all while giving the required funds. Levy, on his end, praised Trump for raising himself on his "gold and platinum bootstraps" and challenging guest Andrew Klavan on his claim that no one quite believes the birther conspiracy– after all, aren't 45% of Republicans polling that they do? Klavan replied that this was because "Obama won't come forward and address the issue; he treats people with arrogance and disrespect."
The segment via Fox News below:

Have a tip we should know? tips@mediaite.com