Red Eye Guests Trash 'Disgusting' Media For Never Asking, 'What Did We Do To Contribute To' CT Shooting?
Red Eye
Trashes Media For Not Asking: How Did We 'Contribute To' CT Shooting?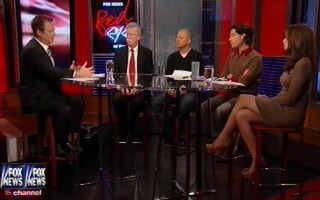 Early Tuesday morning, the panel guests on Fox News Channel's Red Eye admonished the media's handling of the tragic massacre of children and teachers in Connecticut last week. The guests blasted the media for their focus on preventing future mass shootings with measures like increased gun control laws or mental health treatment, but failing to acknowledge their own part atrocities like the Sandy Hook massacre. Red Eye's guests scolded the media rewarding mass killers with outsize coverage of their actions.

"How much is too much, as far as this coverage is concerned, because delusion and narcissism are in the same ballpark," said regular guest Bill Schulz. "In rape cases, all the media outlets usually agree to never mention the name of the victim. Maybe something like that can be applied to the actual perpetrator when it comes to something like this?"
"On reason the media doesn't broadcast terrorism demands or read terrorist manifestos is they don't want to encourage other terrorists," said former U.N. Ambassador John Bolton. He said that the media could be playing a role in the increase of mass shootings, and that is a conversation that is not being had.
"The media covers Saddam Hussein," Andy Levy said to comedian Jim Norton. "The media covers people like that because it's newsworthy. So, where do you – how do you say, you shouldn't cover this when it's clearly newsworthy?"
"You're not going to inspire other people to become a dictator by covering Saddam Hussein," Norton replied. "There becomes a point where it becomes tabloid and disgusting and the media knows where that line is."
"Psychologists have been telling them for years how to cover these stories. They're not naïve to it," Norton added. "Every time this happens, we have the same boring gun discussions – 'is it mental illness or is it guns?' And the media never has the discussion, 'what did we do to contribute to this?'"
Norton said that the media is giving aspiring mass murderers the incentive they seek by glorifying killers after they commit atrocities with wall-to-wall coverage of their actions. "The press knows they're doing it, and they don't care," Norton concluded.
Watch the clip below via Fox News Channel:
> >Follow Noah Rothman (@Noah_C_Rothman) on Twitter
Have a tip we should know? tips@mediaite.com