Red Eye Has Best Ratings Quarter Ever In Demo; Greg Gutfeld Explains Success To Mediaite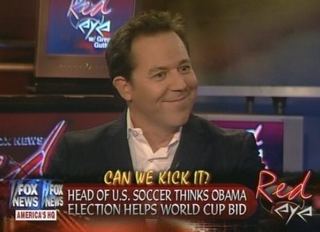 Fox News' 3 AM news/comedy show Red Eye just capped it's best quarter ever in the 18-34 demographic– celebrating its 1,000th program with its highest ratings ever, and beating CNN primetime according to Nielsen. Mediaite caught up with host Greg Gutfeld to chat about this achievement, what it means for the competition, and how to keep viewers glued to the screens (and their Twitter pages) for another 1,000 episodes.
Congratulations on both your 1,000th episode and your best quarter ever in terms of ratings. How do you think the show distinguished itself after so many years on air that it's now beating even some primetime shows with some regularity?
It reflects the dedication of the fan. We're asking our fans to jump through a couple of hoops– one is the fact that we're on pretty late at night and another is that, just to get the humor after the while because it's an unusual show. You've got to get used to it before you like it. We ask a lot of our fans, and we still get better numbers than something that's on at a much more amenable time.
Our podcast is also doing really well. We do it every day and it's becoming really popular. We let it loose every afternoon on Twitter so people can find it– it's usually about 25 minutes. It's something that we're trying out and it's been real popular, so hopefully we'll keep doing it.
Do you think the Twitter campaigns have helped? [Redeye fans regularly use Twitter to promote their show, and the #redeye hashtag to converse with each other as the show airs every night]
We've always been really accessible, fans can contact us and they like using Twitter while watching the show, which is fun, and I'll go on there at the same time and do it myself if I can't sleep or it's the weekend. I think it's great and also, the viewers know that a lot of the stuff that they said via my website I often use. The way I introduce guests– they realize that after 10,000 times of doing that, I need help, so they send me suggestions and I use them. So it's one of the few shows– probably one of the only shows– where the fans actually help write it.
Your ratings are stellar for the 3 A.M. timeslot, but this quarter even beat some primetime shows– namely CNN's 8 PM show In the Arena. That show, the Daily News is now speculating that that show (and possibly Eliot Spitzer) could see an exit. Any thoughts on how that came about, or what they're doing over there that has them on the decline?
To be perfectly honest, it's on at a time that I'm working, so I never watch it, so I guess I'm like the rest of America. But I honestly haven't seen the show. I wish him well. I'm sure he'll find work elsewhere.
So if that show ends, that's one down. Do you have any other primetime shows that you're aiming to beat?
Nah, I don't really have a hitlist of people I want to take down. I'm basically lucky– I feel like I'm lucky to be doing this, so I'm not out to get anybody. I prefer to concentrate on our own show in order to make fun of people who deserve to be made fun of, making people think about things a different way. I think the reason why Red Eye is popular is because we question the common assumptions that you find elsewhere. We don't echo the same agreeable beliefs that you find anywhere else and I think that's why people find it refreshing. And when they discover the show, they find it– wow, they don't see this anywhere else, and that's what keeps them there. We try to focus on that, not so much the competition.
A thing that a lot of people don't know– I certainly didn't know– about the show is that mostly it's written by just you, Bill and Andy and the guests—there's not a huge writing staff. Do you think that's an advantage in that your team is so small, does it help with the efficiency? Or do you think having a bigger crew behind you would make a difference?
I wouldn't know because this is all I've had– it's something that, this is what we were given, and we've made it work. Generally the work is split three ways and we don't have a massive staff, so that forces you to look at things a different way, be more creative, and maybe that helps because it gives us a singular voice that you don't find elsewhere.
Where do you go from here now that you've reached a highest career point this past quarter? How do you keep the audience interested?
We're going to be making a movie– Redeye, The Movie— and it's going to take place on a plane–
Is it a horror movie?
Yeah. It's actually going to be an action/suspense movie, probably with Rachel McAdams.
[Photo via]
Have a tip we should know? tips@mediaite.com