Red Eye Mocks 'Pets For Newt' Website: Gingrich Is 'Pandering To Canine-Americans'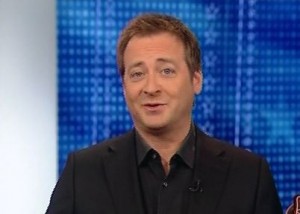 Newt Gingrich's campaign has taken a few hits in recent weeks, and the candidate is working to reclaim the lead in time for Iowa. Yesterday the Gingrich campaign announced a new venture that panders to the all-important demographic of household pets. "Pets for Newt" will be launched shortly in an effort to show off "Gingrich's love for animals." This new venture naturally caught the attention of the Red Eye crew, who poked fun at the candidate for it.
Andy Levy played a montage that could double as a Tumblr page titled "Newt Gingrich and his Animal Friends." And then, in an incredibly confusing segway, Levy brought up new statistics showing millions of voters are leaving the Republican and Democratic parties in droves out of frustration in the two-party system. Of course, in keeping with the theme, the analysis was paired with a video of a literal fat cat.
RELATED: How Does Rick Perry Relax? By Shooting Off Sniper Rifles. 'It's My Golf'
The Daily Caller's Jamie Weinstein thought the pets initiative was a good way for Gingrich to show his "aww" side, but thought the campaign's other announcement, that Callista Gingrich will be releasing a video about music education in tandem with her husband's campaign, was just weird. Bear in mind that Mrs. Gingrich plays the French horn, so there's still a coolness factor to be reckoned with here.
Country music singer Larry Gatlin suggested that "Pets with Newt" is just a shameless way to pander to Canine-Americans, but on a more serious note he argued that in a time of high unemployment and massive uncertainty in the job market, an initiative to show a presidential candidate's "light side" might not be the best move for a campaign to make. Remi Spencer agreed, adding that people tend not to judge who gets to be the next leader of the free world based on adorability.
Bill Schulz thought the very notion of a humanized candidate was counterintuitive, positing that he would be more likely to give his vote to a robotic candidate like Optimus Prime. (Though if the rumors are true and Mitt Romney turns out to be a robot, that would be a hard ticket to beat.)
RELATED: Report: Donald Trump Officially Switches Party From Republican To 'Unaffiliated'
As for the millions more independents not labeling themselves as part of the two major parties, Weinstein ascribed some of the change to the concept of being "independent" sounding cooler and more intelligent to others. Schulz thought it a novel concept that people might actually vote for who they like instead of who party leaders want them to. The biggest consensus the panel reached was that the chances of a third-party candidate winning the White House any time soon are slim, especially this year.
Watch the video below, courtesy of Fox News:
Have a tip we should know? tips@mediaite.com
Josh Feldman - Senior Editor