Red Eye Panel Asks: Why Are There So Many More Married Lesbians Than Gay Men?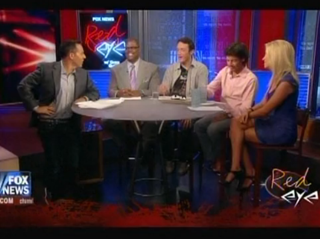 With the news of New York's new law permitting same-sex couples to marry, the statistics on who is getting married in states that had previously done the same are now coming to the fore, and it turns out men are simply marrying less, no matter what their orientation. On this morning's Red Eye, Greg Gutfeld and company took a guess at what the statistics meant and purveyed some advice on how to avoid getting gay-married.
As Gutfeld noted, there are about 3,000 more lesbian couples than gay couples in Massachusetts, and almost twice as many in other states with similar laws. "As a guy, I've got to tell you– it's not surprising," noted panelist Charles Payne. The sentiment appeared to be shared by all the males on the panel, who then began to craft ways to escape getting married if being part of a gay couple in New York. "I'd immediately start making excuses to move to a place without gay marriage," suggested Dan Soder, to which Gutfeld then built upon– the excuse can be "I'm going to that state to change the law, and then when that law is changed, I'll go to another state." When all states fail, the panel concluded, there will always be Utah.
The lone female voice on the panel, Kayleigh McEneny, also concurred with the obviousness of the statistics, but for different reasons. "I'll have to pay someone to get down on one knee," she lamented, noting that it's near impossible for her to get dates, much less proposals. "You always hear this with the hot chicks," Gutfeld argued, while Soder added that it's the girls who say "I can never get a date" that say "I love you like a brother" when you ask them on a date." Bill Schulz agreed vehemently with that comment, and then changed the subject to one particularly famous bachelor– "you know who really is sweating bullets right now is Brad Pitt."
During the Halftime Report, Andy Levy was quick to call Schulz a "hack" for stealing a tweet he made the night of New York's gay marriage bill passing, and added an apparently obvious possibility that no one brought up before for the lopsided numbers: "maybe there are just more lesbians– did anyone think of that?"
The discussion and subsequent Halftime Report talk via Fox News below:

Have a tip we should know? tips@mediaite.com