Red Eye Panel: Christine O'Donnell Walked Out On Piers Morgan Because Interview Wouldn't Have A 'Happy Ending'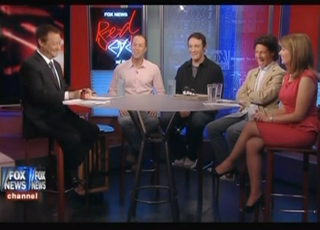 Who would have thought this time last week that Christine O'Donnell would have reemerged in the news cycle's top story? On this morning's/last night's Red Eye, the panel (led by host for the night Andy Levy) tried to make sense of her decision to walk out on Piers Morgan this week, and seemed to come to some consensus: Morgan probably doesn't respect her too much, but she may be incorrect to think she is "some kind of serious political candidate."
O'Donnell, of course, argued that she left the program because Morgan "would not stop talking about sex" and that she was not comfortable talking about topics she did not want to talk about. She later went on to call it "borderline sexual harassment," which made Morgan borderline litigious.
The story provided for a fair number of wonderful punchlines– from Patti Ann Browne suggesting that "once the masturbation stuff came up, she just knew there wasn't going to be a happy ending" to ombudsman for the night Mike Baker talking about programs on which O'Donnell came out in favor of socially conservative causes (with strategically placed rhetorical pauses).
As to the reasoning behind her walking out, however, panelist Adam Mansbach provided a fairly strong theory: "the fundamental misunderstanding that she is laboring under is that she is being asked to be on a show as some kind of serious political candidate," though her attacks on the media (what Levy called "the Sarah Palin card") had in the past proven to be effective. Meanwhile, panelist Dan Soder gave her the benefit of the doubt– "what they did edit out was his creepy bottom lip bit after every question." The group also speculated as to Piers Morgan's real origins– is he really British? Soder posited he is "some actor from Iowa"– a theory happily entertained by the panel.
The segment via Fox News below:

Have a tip we should know? tips@mediaite.com