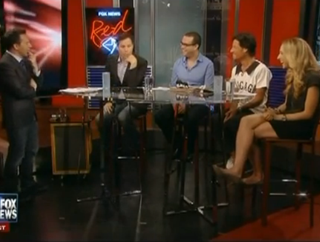 The news of Tom Cruise and Katie Holmes divorcing hit the news cycle yesterday as a reminder that 24 hours of people debating the jurisprudence of the latest Supreme Court decision was neither expected nor typical, and many abandoned the policy news to talk about these famous people and their private lives. On last night's Red Eye, Greg Gutfeld and company took a look at the serious issues surrounding the TomKat divorce– for example, how does one explain the divorce to one's children and, given that he is now both a single man and starring in a musical, can we all stop pretending that Tom Cruise is straight without getting slapped with a lawsuit?

RELATED: Katie Holmes And Tom Cruise To Divorce
"Where were you when you heard the news?" Gutfeld asked guest Michael Ian Black, who facetiously explained that he was crying when he children came home. "It makes me so happy I don't have kids," Gutfeld joked, because he won't have to explain the situation. Given Holmes' new single status, Gutfeld asked Joe DeRosa if he was planning on acting on it, to which he replied, "she doesn't want to date another guy who is pretending he's not gay," more or less openly saying that Cruise was, and tagging on a "that's a joke!" at the end of it.
"File all your legal actions to [Joe DeRosa], because that's disgusting," Gutfeld replied, adding that the problem was that Cruise "likes men… toring" and thus the marriage could not stand. Gutfeld then lamented that "America loves to eat their royalty," constantly mocking stories like this, to which Bill Schulz replied that that was not true, because Americans "eat bums' faces."
During the "Halftime Report," Andy Levy accused Gutfeld of "having no shame" for talking about the divorce when their publicist demanding "privacy," though then went on to have a conversation about Black's "onion cellar" (it's where he took his kids after hearing the news) and Cruise's proclivity for "bird poop facials."
The segment (and Halftime Report below that) via Fox News below:

—–
»
Follow Frances Martel on Twitter
Have a tip we should know? tips@mediaite.com