Red Eye Panel Defends Romney, Thinks All Presidents Should Have Car Elevators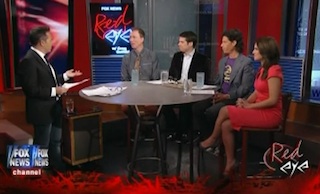 Yesterday, more news surfaced proving once again that Mitt Romney, an extremely rich man, is actually extremely rich. First came his "humorous" story about that wacky time his dad shut down a factory, then came the news that his new beach home was going to have a "car elevator," a phrase that, to most Americans, makes about as much sense as "dog pasta" or "shoe spaceship." But will Romney's elevating cars hurt him with voters? The Red Eye panel took on the question last night and mostly thought no.
RELATED: Doin' The Millions: Mitt Romney Busted On John Kerry Over Size Of His House In 2004
Tom Shillue pointed out that "we all want car elevators" and that some of America's "favorite people" have car elevators, listing Jay Leno and Jerry Seinfeld as examples. Greg Gutfeld had to laugh at Shillue's go to choices for "favorite people."
Fox Business' Diane Macedo "[couldn't] understand why people were picking a fight over this" as she saw it as a good thing that there could be a president who knows how to make money. She scoffed at the feelings that the President shouldn't be so separate from the majority of Americans. "I don't need the president to have that kind of 'common folk' idea."
The Daily Caller's Jamie Weinstein called stories like this "insufferable." He argued that "if Obama had an elevator in his garage before he was elected, maybe the economy wouldn't be in as bad a shape as it is" before joking that car elevators should be a qualification for the office.
Watch the clip from Fox News below:
Have a tip we should know? tips@mediaite.com