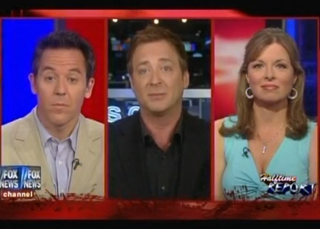 Rep. Michele Bachmann is one prone to some controversy, though the type she found this week was certainly new: musician Tom Petty requested she stop using his song "American Girl" on the campaign trail. It's neither the first nor last time that a politicians finds themselves in that position, and the fact that it's common knowledge one needs permission to use songs had last night's Red Eye panel asking: did Rep. Bachmann spark Petty's wrath on purpose?
Host Greg Gutfeld retold the story of how Petty tweeted he wanted nothing to do with Rep. Bachmann, joining Katrina of Katrina and the Waves, who also protested to Rep. Bachmann's use of "Walking on Sunshine." The panel agreed that artists should have a say in where their music is played– panelist Joe DeVito put it succinctly: "I think you should be able to decide where your song is being played." The problem, Gutfeld noted, was that this significantly narrowed down the playlists for conservative politicians to Lynyrd Skynyrd and Ted Nugent, and… that's about it.
On his part, Bill Schulz seemed bored by the controversy. "We've seen this movie before," he yawned, noting the dispute between Ronald Reagan and Bruce Springsteen. "When Reagan used Springsteen's song 'Uptown Girl?'" Gutfeld interjected, which Schulz replied to affirmatively– "he wrote it for his model girlfriend, Naomi Campbell." Schulz suggested it was a move "completely and utterly calculated by the Bachmann camp" for publicity, a point Andy Levy later found to have some merit, as campaigns "know they didn't get permission from the copyright holder" for the music, so the backlash is entirely expected.
The segment via Fox News below:

Have a tip we should know? tips@mediaite.com